Consumers Need Mercury Labels on Seafood, Claims Lawsuit Against FDA
By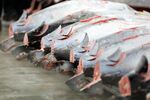 If you're worried about antibiotics in meat, don't seek refuge in shark, swordfish, or king mackerel, consumer advocates warn. The Center for Science in the Public Interest and the Mercury Policy Project filed a lawsuit (pdf) Monday against the Food and Drug Administration requesting regulations to label fish containing high levels of mercury and include information on what levels of consumption are safe. They also want the government to require supermarkets to display this information on signs at the fish counter.
The advocacy groups are mainly concerned with reaching such consumers as pregnant and nursing women, women of childbearing age, and parents of young children. The FDA already recommends that women who are or might become pregnant, as well as young children, avoid high-mercury fish such as shark, swordfish, tilefish, and king mackerel. Albacore and fresh or frozen tuna intake should be less than 6 ounces per week. And for lower-mercury seafood, such as shrimp, salmon, pollock, catfish, and canned light tuna, it recommends no more than 12 ounces per week. (Here's an FDA reference on mercury levels in various kinds of seafood.) The plaintiffs argue, however, that consumers are not familiar with these recommendations.
Arguably, consumers today are already bombarded with information about the food they eat. A study shows that 38 percent of people, however, are unaware of the specific risks of seafood consumption. According to the complaint, hundreds of thousands of children in the U.S. are born every year with elevated blood mercury levels caused by their mothers' consumption of fish and shellfish contaminated with methylmercury, a neurotoxin that has been linked to learning disabilities, lowered IQ, and impaired cognitive and nervous system functioning.
Roughly one in 40 women of childbearing age have mercury in their blood above 5.8 micrograms per liter of blood—the level considered safe for a developing fetus, according to a 2009 study by the Centers for Disease Control and Prevention.
"Putting mercury content information on packages and at the seafood counter is the best way to transmit that important information to consumers," said Sarah Klein, an attorney at the CSPI, in an e-mail. She suggests such labels as "Women of childbearing age and children: Elevated mercury; limit to no more than 2 servings/month" or "Warning for children and pregnant women: Contains elevated mercury." At the seafood counter, she says, the information should be more comprehensive.
A spokesperson for the FDA declined to comment, saying the agency can't discuss pending litigation.
Mercury in seafood is a familiar issue for the CSPI, which has petitioned the FDA for stricter mercury regulations since 2000. The groups filed a petition with the FDA in 2011 requesting mercury labeling, but the agency has not yet responded. This new lawsuit asks for a court ordered deadline for the FDA to respond.
Before it's here, it's on the Bloomberg Terminal.
LEARN MORE