Worst Oil Stock Seeks Shale Lift as Colombia Boom Fades
Andrew Willis and Dan Murtaugh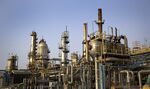 Ecopetrol SA is positioning itself to tap Colombian shale and offshore oil deposits for the first time after missed targets at onshore fields made it the worst-performing major oil stock last year.
"Unconventional and offshore are new frontiers we want to open in Colombia to continue incorporating reserves," Deputy Energy Minister Orlando Cabrales said in an interview yesterday. "Ecopetrol, directly and with partners, is ready to do that."
The state-owned producer is in talks to drill shale pilot wells and is considering vying for offshore blocks in a July auction, he said in a separate interview from Houston last week. Ecopetrol would be among the first companies to carry out hydraulic fractures of shale rock in Colombia once environmental rules are passed. Until now, testing has been limited to areas of naturally fractured shale.
Exxon Mobil Corp. and Royal Dutch Shell Plc are also discussing pilots that probably will start in the second half of the year, Cabrales said. Proposed water-disposal rules for fracking that are similar to U.S. regulations probably will be passed later this month or early April, according to Canacol Energy Ltd., Exxon's partner in the La Luna shale formation.
Both shale and offshore will be key to Ecopetrol's future success, said Stacy Steimel, who manages $360 million of Latin American equities at PineBridge Investments.
Execution Risk
"As the drilling they've done has been predominantly onshore, the market still wants to see if the company can drill in deep water," she said by phone from Santiago. "And shale depends on the formation. There's a bit of execution risk."
Colombia's technically recoverable shale resources are 6.8 billion barrels of oil and 55 trillion cubic feet of gas, according to a 2013 Energy Information Administration report. Potential flow rates and thicknesses in Colombian shale deposits compare favorably with Argentina's giant Vaca Muerta formation, Canacol Chief Executive Officer Charle Gamba said in a March 10 interview.
Ecopetrol plans to drill 15 wells for unconventional hydrocarbons this year in the Middle Magdalena and Catatumbo areas, including nine stratigraphic wells, three exploratory wells and three productivity and study pilots, the company said in an e-mailed response to questions. It also plans two offshore exploratory wells in the Caribbean this year.
The promise of doubling output by opening up areas once overrun by cocaine-funded rebels made Ecopetrol the best bet among major oil companies since 2010. The company's market value surged as much as $100 billion since its 2007 initial public offering to become the sixth-most valuable producer and the priciest relative to earnings at the end of 2012.
Asia Focus
Since then, the stock has lost 43 percent in U.S. dollar terms and fallen to 13th spot by value, while Total SA and Occidental Petroleum Corp. gained at least 25 percent. Bogota-based Ecopetrol is struggling to meet output targets and replace reserves and is facing a surge in rebel attacks.
Shale is a double-edged sword for a company that's considering building a Pacific coast pipeline for exports to Asia as the U.S. shale boom threatens to erode demand from its traditional oil buyer. The company didn't respond to two e-mailed requests for comment on the share decline.
Colombia is preparing to auction 97 hydrocarbon blocks in July, including 13 offshore. Ecopetrol, Shell and Repsol SA are among companies that have expressed interest in deep-water blocks after contract terms were improved, Cabrales said.
Inflection Point
Companies drilling in deep water will be able to recover 200 million barrels before being charged a 30 percent royalty, with operators in ultra-deep water allowed 300 million barrels.
Colombia's oil industry "seems to be at an inflection point," Axel Christensen, head of Latin America strategy at BlackRock Inc., said by telephone, declining to comment on companies. "You're not going to get the same growth doing what you've been doing. You have to expand your universe."
Before it's here, it's on the Bloomberg Terminal.
LEARN MORE