Myanmar's Journalists Struggle for True Press Freedom
Christina Larson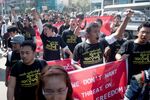 For most of the 35 years that journalist U Thiha Saw has worked for newspapers in Myanmar, he labored under heavy handed censorship. "Every single page of every publication, cover-to-cover and everything in between, including advertisements" was subject to pre-publication review by government authorities, he says. Words, phrases, and articles deemed offensive were meticulously scrubbed. Journalists were routinely harassed and intimidated by government agents.
Shortly after Myanmar's reforms began in 2011, the old censorship regime officially ended. In August 2012, the government revoked the mandatory pre-publication review process. As Thiha Saw, now editor-in-chief of Myanmar Freedom, told attendees of the East-West Center's "Challenges of a Free Press" Conference in Yangon on Monday, "We are freer now to talk about certain issues, and past taboos have been lifted." In particular, he mentioned that articles on high-level graft and ethnic conflict in Myanmar were no longer de facto off-limits.
At a luncheon Sunday in Yangon to launch the Aung San Suu Kyi Foundation, a nonprofit to support healthcare and education, Myanmar's famous democracy advocate put the country's recent evolution in perspective: While many foreign observers have placed high hopes on the emerging democracy, she sounded a note of caution. "The changes [in Myanmar] are not all that great and not all that amazing. Yet one thing no one can deny is that we have greater freedom of the press."
But greater freedom is still far from total freedom. In February, five journalists from Myanmar's Unity Weekly News were detained after publishing accounts of the military's efforts to develop chemical weapons. In January, several hundred journalists staged protests in Yangon when a newspaper writer was sentenced to three months in jail for "defamation" after reporting on government corruption.
The 2014 World Press Freedom Index, published by the Paris-based Reporters Without Borders, ranked Myanmar 145 out of 180 countries—six slots above its 2013 rank, but still near the bottom of the list. (Myanmar did, however, rank above several near neighbors, including Malaysia, Singapore, China, and the Philippines.)
Thiha Saw of Myanmar Freedom newspaper is now part of an advisory council of journalists providing input to the government in drafting new media laws. He says his top priorities include finding ways to protect journalists and providing professional training to young reporters. "The average age of print editors in this country is 28; these are very young people," he says.
Before it's here, it's on the Bloomberg Terminal.
LEARN MORE