Expect China Deposit Rate Liberalization Within Two Years, Says Central Bank Head
by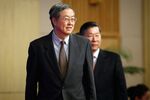 Will China move faster on financial reform than many have been predicting? That was the take-away from a press conference held on the sidelines of the ongoing National People's Congress.
China will probably liberalize bank deposit rates in one to two years, said People's Bank of China Governor Zhou Xiaochuan today. "This is much faster than we had expected," Dariusz Kowalczyk, a Hong Kong-based strategist at Credit Agricole CIB to told Bloomberg News. A survey of economists last year showed that most expect the reform to happen in 2016 or later.
While China freed up lending rates in July, regulators have been loath to move as quickly on deposits. (Benchmark one-year deposit rates are set at 3 percent.) That's because of fears that banks rushing to compete for deposits will ramp up rates, narrowing margins and putting heavy pressure on less-competitive lenders, even as they face the challenge of rising bad debt.
"Removing controls on deposit rates is the most critical and risky step in interest rate liberalization," the People's Bank of China said in a statement released at the time. It would have a "much more profound impact," the statement added.
Allowing savers to earn higher returns is seen as a critical step in moving China toward a more consumption-driven economy. With inflation running at 2 percent in February, Chinese households now earn little on bank deposits.
At the same press conference, Shang Fulin, head of the China Banking Regulatory Commission, also announced plans to set up five private banks in the cities of Shanghai and Tianjin and in Zhejiang and Guangdong provinces. Launching private banks is seen as an important step in introducing greater competition to China's still largely state-run financial system. Just over one-10th of China's total banking industry capital output is private, Xinhua News Agency reported on March 5.
Before it's here, it's on the Bloomberg Terminal.
LEARN MORE