Carney Says Employee Suspended for Failing to Raise Alarm on FX
Gavin Finch and Scott Hamilton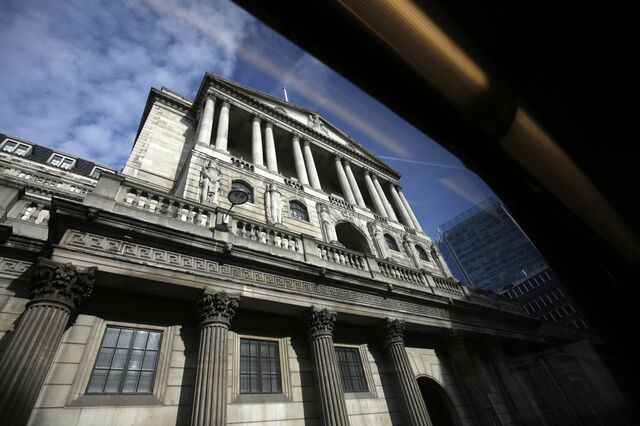 Bank of England Governor Mark Carney said the employee suspended last week was put on leave for potentially failing to escalate an issue and not because anyone there had turned a blind eye to currency manipulation.
"We have no information that suggests that anyone at the BOE condoned manipulation of markets, facilitated, participated in market manipulation but that's a pretty low bar," Carney told Parliament's Treasury Committee yesterday.
Lawmakers questioned Carney in London after records released last week seemed to show that senior currency dealers discussed with BOE officials concerns that the market was being manipulated as early as 2006. The central bank opened a review in October into allegations, reported by Bloomberg News last month, that staff condoned practices at the heart of the currency-manipulation scandal.
"If something is not escalated we have to make a judgment on where that responsibility lies," Carney said, without elaborating on what should have been escalated. "We've made that judgment and we stand by it."
Officials, including Carney, declined to identify the official who was suspended while the matter is being investigated. No disciplinary decisions have been made at this point, they said, and no one else has been put on leave.
Carney -- who took on the role of governor in July -- also came under criticism from lawmakers for the central bank's failure to implement proper escalation policies since the Libor manipulation scandal.
'Escalation Procedure'
"The fact still remains that there should have been an escalation procedure and it would be very interesting to see whether between 2006, in wake of Libor, and 2014 now, whether there have been any issues raised up the line," said Andrea Leadsom, a Conservative Party member on the Treasury Committee.
At a July 4, 2006, meeting led by BOE chief dealer Martin Mallett and attended by another central bank official, participants discussed "evidence of attempts to move the market around popular fixing times by players that had no particular interest in that fix," according to the minutes. "It was noted that 'fixing business' generally was becoming increasingly fraught due to this behavior."
BOE Markets Director Paul Fisher said yesterday that discussion related to volatility created by the growing influence of hedge funds and algorithmic traders in the market around the WM/Reuters 4 p.m. London fix and not rigging.
Currency transactions by large hedge funds "can create volatility in market prices which can knock the banks about in terms of their own risk positions," Fisher said. Dealers at the 2006 meeting said they were finding it "increasingly difficult to manage their positions because the activities of, as they see it, these third parties moving rates around," he said.
Oct. 16
Also disclosed in the records last week, the officials and traders in a BOE foreign-exchange committee heard in 2008 from Brian Dawson -- then an executive at World Markets Co., a unit of Boston-based State Street Corp. -- on the methodology for calculating the WM/Reuters rates. During that discussion, "it was suggested that using a snapshot of the market may be problematic" and "could be subject to manipulation," according to the minutes.
Carney said no one at the BOE knew about claims its staff were aware of market manipulation until Oct. 16, when "a colleague had been informed by a market participant of an allegation."
'Extremely Serious'
The U.K. Financial Conduct Authority, which regulates markets, announced a formal investigation into the matter that day. The BOE hired outside counsel and began its investigation two days later, Carney said.
At least a dozen authorities on three continents are examining allegations first reported by Bloomberg News in June that traders colluded with counterparts at other banks to manipulate benchmark rates. More than 20 traders have been suspended or fired as a result of the probes.
It's the second benchmark-manipulation scandal to hit the BOE following its entanglement in the London interbank offered rate scandal. Lawmakers criticized how it handled the Libor affair, calling it naive.
"This is extremely serious," Carney said of the allegations of market manipulation. "As serious as Libor, if not more so."
BOE staff have been asked to confirm they are following the central bank's escalation policy and are not aware of other allegations of potential market abuse made in the past, said Carney, in response to questions about how it has changed procedures in light of the accusations. The bank has also asked for attestations in relation to record management.
Before it's here, it's on the Bloomberg Terminal.
LEARN MORE