Audi Swipes BMW's Luxury Crown. Keeping It Will Be Harder
By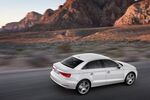 Two months into 2014, Audi has nudged ahead of BMW in the race to sell to luxury car buyers around the world.
Through February, the blue-chip Volkswagen brand has sold almost 242,500 vehicles, about 9 percent more than in the year-earlier period and just a smidgeon ahead of BMW's "Ultimate Driving" machines. Daimler's Mercedes, sitting in third place, has more momentum than either rival, having sold 12.4 percent more vehicles than in the year-earlier period.
There's certainly a lot to like in Audi at the moment, but a lot of road remains before we hit the 2014 home stretch. With new 2-series and 4-series models rolling out, BMW can catch up quickly. IHS Automotive is already predicting BMW will keep its sales crown for a 10th straight year.
The race, meanwhile, will be decided in two places.
China: Audi has the clear lead here, selling almost 77,000 cars in the country in January and February, compared with BMW's 67,400. China represents almost one-third of Audi's business. But BMW has momentum: Its sales in the first two months showed a 25 percent improvement over early 2012. If it can keep that pace, China will quickly become BMW territory.
United States: Audi at the moment is selling only 9 percent of its vehicles in the world's largest car market, compared with one-in-five Mercedes models and 17 percent of BMWs. That's paltry but promising—prime condition, in fact, to steal some market share. It's as if Audi is humming along, neck-and-neck, with one gear left.
That extra gear could be Audi's A3 compact sedan, just now hitting dealerships at a starting price just shy of $30,000. It needs to outperform BMW's new 2-series and Mercedes CLA without luring too many buyers away from Audi's bigger A4. A few more dealerships and a chunk of marketing money wouldn't hurt, either.