U.K. Liberal Democrats Make Bid for Pro-EU, Pro-Immigrant Voters
Robert Hutton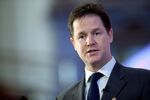 U.K. Deputy Prime Minister Nick Clegg talked up support for immigration and the European Union in a bid to sharpen his Liberal Democrat Party's profile as the counterweight to David Cameron's Conservatives.
The Liberal Democrats spent their weekend conference in York, northern England, discussing the advantages of EU membership and slamming their Conservative coalition partners, who have pledged an in-or-out referendum if they win the 2015 election. At one point Clegg denounced the Tories as "irresponsible" and "driven by panic" on immigration.
The Liberal Democrats are striving to reconnect with voters, having seen their poll support halve to about 10 percent since their 2010 decision to enter a coalition with the prime minister's party. As the Tories harden their rhetoric on the EU in an effort to see off the threat from the U.K. Independence Party, Clegg sees an opportunity.
"There's a body of metropolitan voters who're just not being catered for," said Andrew Russell, professor of politics at Manchester University. "People who aren't hostile to Europe have been completely ignored in the last 12 months. All the campaigning has been about reacting to UKIP."
Cameron, who has said he wants Britain to stay in the EU on a renegotiated basis, is seeking German Chancellor Angela Merkel's support to overhaul the terms of U.K. membership. He is due to tour a technology fair in the western German city of Hanover with Merkel today.
The opposition Labour Party's Ed Miliband has said he is against setting a deadline for a referendum, but has been forced to deny reports he's considering offering one too.
European Elections
In his speech to the conference yesterday, Clegg attempted to define the question voters should answer in the May 22 European elections.
"Do you want Britain in Europe, or out?" he asked. "One party wants out. Another is flirting with exit. The other lot don't have the courage of their convictions on this -– they're saying nothing at all. The Liberal Democrats are now Britain's only party of In."
By defining the Liberal Democrats this way, Clegg has been able to style himself as the clearest opponent of UKIP and their leader, Nigel Farage. Clegg has challenged Farage to broadcast debates in the run-up to the European elections.
Clegg yesterday accused Farage of being a softer version of "the forces of chauvinism, protectionism and xenophobia" that he said were on the rise in the EU.
"An ungenerous, backwards looking politics has emerged in Britain," the deputy prime minister said in a passage aimed at Farage. "The politics of blame has found an acceptable face: it wears a big smile and looks like someone you could have a pint with down the pub."
He told his party to whom they would be appealing. "There are plenty of people out there who don't want anger," he said. "They don't want bile. They want jobs. They want our country to have influence. They want opportunities. Ultimately they want hope."
Clegg's approach marks a stark change from past campaigns, according to Russell. In 2005, he said, the party tried to avoid any discussion of immigration.
"Then they were trying to build bridges, not burn them," he said. "Now, where else are they going to go?"
Before it's here, it's on the Bloomberg Terminal.
LEARN MORE