Missing Malaysian Air Flight Highlights Stolen Passport Epidemic
By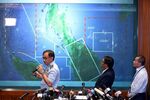 One of the more disturbing facts revealed by the ongoing investigation of Malaysian Airlines flight MH370 is how apparently easy it is to travel the world on stolen or forged passports.
So far we know that at least two of the 239 people on board the Boeing 777 that vanished while flying the red-eye between Kuala Lumpur and Beijing were traveling on stolen passports—one from a 30-year-old Austrian man and a second from an Italian man. Both had their passports taken while traveling in Thailand in 2012 and 2013, respectively.
The southeast nation has long been known for being a major marketplace for stolen and forged passports and other identity documents. Fraudulent documents, not just those sourced from Thailand, often end up being used by illegal immigrants as well as by drug smugglers and, in some cases, by terrorists, including Ramzi Yousef, convicted in the 1993 World Trade Center Bombing.
Austria and Italy both said none of their nationals were on the missing plane; about two-thirds of the passengers were from China, 38 from Malaysia, with others from such countries as Indonesia, Australia, India, France, and the U.S.
The fact that the two mystery travelers traveling on stolen documents—both of which had booked tickets on to Europe, allowing them to avoid having to apply for Chinese visas—were able to slip through Malaysian customs without detection, is deeply troubling and points to a much larger problem, says Interpol, which is based in Lyon, France. (The international police agency on March 9 announced it was "examining additional suspect passports." A third passenger was traveling on a forged mainland passport, the South China Morning Post reported on March 10.)
Since the Sept. 11, 2001, terrorist attack on the World Trade Center and Pentagon, Interpol has maintained a database of lost and stolen passports and other travel documents that has expanded to include more than 40 million entries.
And while some countries regularly use the so-called Stolen and Lost Travel Documents (SLTD) database—the U.S. searches it more than 250 million times each year, the U.K. more than 120 million times, and the United Arab Emirates 50 million times—most do not. Last year, passengers were able to board planes more than a billion times without having their passports screened through the database, according to Interpol.
"Whilst it is too soon to speculate about any connection between these stolen passports and the missing plane, it is clearly of great concern that any passenger was able to board an international flight using a stolen passport listed in INTERPOL's databases," said Interpol Secretary General Ronald K. Noble in a March 9 statement.
"This is a situation we had hoped never to see. For years INTERPOL has asked why should countries wait for a tragedy to put prudent security measures in place at borders and boarding gates," he said, adding that 1.5 billion passengers are expected to travel internationally by 2017.
"Now, we have a real case where the world is speculating whether the stolen passport holders were terrorists, while INTERPOL is asking why only a handful of countries worldwide are taking care to make sure that persons possessing stolen passports are not boarding international flights," Noble said.
Before it's here, it's on the Bloomberg Terminal.
LEARN MORE