McDonald's Sales Troubles Aren't Going Away
By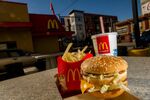 McDonald's still isn't selling as many Mighty Wings as it would like. Same goes for Egg White McMuffins and Chicken McWraps—even coffee sales have been lackluster. The new-ish Dollar Menu isn't helping attract enough customers.
That's the takeaway from the company's February sales report, the fourth-consecutive month of bad news. Sales at existing U.S. restaurants fell 1.4 percent last month, McDonald's said on Monday, while global sales dropped 0.3 percent.
While February brought smaller sales drops than December or January, the broader problems go well beyond the four-month run. The economy certainly isn't helping, of course, and the weather's been bad. But those factors don't explain away Taco Bell's offers for more exciting fare or Chipotle Mexican Grill's success with healthier options. McDonald's seems to have made matters worse for itself by complicating its menu, which slowed service, and it still isn't serving breakfast all day.
The coming months will present new problems for McDonald's Chief Executive Don Thompson, leader of the world's largest restaurant chain. Beef prices are high and are expected to go higher. Several states have increased the minimum wage, and the federal government is considering a proposal to raise it to $10.10. The company's response to this, as to the fast-food strikes that occurred last year, has been less than adept. Thompson told Bloomberg TV this past summer that McDonald's isn't a minimum-wage employer. Then labor activists and others found much to criticize on a website for McDonald's employees that assumed some of them would need public assistance to get by. McDonald's closed down the site in December.
McDonald's latest experiment doesn't inspire much confidence, either: Restaurants in San Diego started selling raspberry and cinnamon cream-cheese Petite Pastries. Buy a cup of coffee and get two for $1.29.