Malaysian Air Falls to Record Low After Flight Vanishes
Chan Tien Hin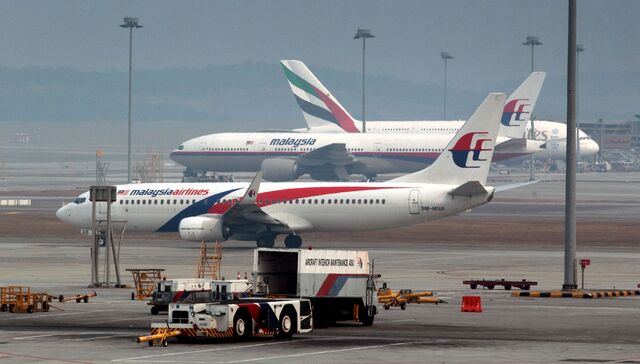 Malaysian Airline System Bhd. fell to an all-time low after the national carrier's Flight 370 disappeared en route from Kuala Lumpur to Beijing two days ago.
The stock sank 4 percent to 24 sen for its lowest close on record after falling as much as 18 percent. It was the most active on Kuala Lumpur's exchange with 385 million shares traded. The benchmark FTSE Bursa Malaysia KLCI Index slid 0.6 percent and the ringgit slumped 0.8 percent against the dollar.
Investigators from nine countries are struggling to solve the mystery of the missing Malaysian jet, as Vietnamese forces today failed to find the airplane debris they had spotted yesterday off the country's southern coast. The prospect of terrorism arose after Austria and Italy said passports used by two male passengers were stolen from their citizens.
A helicopter late yesterday spotted what officials suspected was a window or door fragment of a plane. Malaysia still had no information about the Boeing Co. 777-200, which was carrying 239 people, and reports that plane parts were spotted aren't confirmed, said Azharuddin Abdul Rahman, director general of the Department of Civil Aviation.
China, Australia and the U.S. are among those helping search for the Malaysian Airline plane that went missing from radar screens on a flight to Beijing from Kuala Lumpur March 8.
Stolen Passports
Flight 370 departed the Malaysian capital at about 12:41 a.m. local time March 8 and was scheduled to land in Beijing at 6:30 a.m. Security screening was performed as usual at Kuala Lumpur, Malaysia Airports Holdings Bhd. said.
The twin-engine, wide-body plane carried 227 passengers and 12 crew members. Chinese travelers accounted for the largest group by nationality at 153, including an infant, the airline said. Also aboard were three U.S. citizens, according to the U.S. State Department.
Interpol said in a statement that at least two passports recorded in its database, one Austrian and one Italian, were used by passengers on the flight after being reported stolen in Thailand. Two people using stolen Italian and Austrian passports had consecutive ticket numbers, suggesting the tickets were issued together, Cable News Network reported, citing the Chinese e-ticket verification system Travelsky.
The missing plane was a code-share service with China Southern Airlines Co., which said it sold seven tickets on the flight, including to people of Austrian and Italian nationality, according to the company's microblog.
Malaysia Airports Holdings shares fell 1.7 percent, the biggest retreat since Feb. 20. China Southern Airlines dropped 3.9 percent in Hong Kong trading, the lowest close since Feb. 6. The Bloomberg World Airlines Index slipped 0.1 percent.
Before it's here, it's on the Bloomberg Terminal.
LEARN MORE