Indian Stocks Climb, Partly on Political Expectations—but Are They Right?
by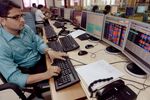 The benchmark S&P BSE Sensex in Mumbai has been hitting record highs lately. It closed at 21,934.83 today, for those keeping count. Wrapped into most reports about Indian stocks and their rise is the notion that investors are feeling optimistic about the country's upcoming elections.
When business people in India speak about optimism and the polls, it usually means one thing: the Modi Bounce. Narenda Modi is possibly the next prime minister, assuming his Bharatiya Janata Party wins the biggest bloc of seats in India's parliamentary elections this May. Modi is a controversial figure. To his supporters, Modi's a probusiness leader who'll cut through red tape and give the nation guidance and a direction that has been sorely missing from the incumbent Congress party's rule. To his detractors, he's a dangerous nationalist with a thick streak of demagoguery. If Modi and the BJP win enough seats to avoid having to cobble together a messy coalition, the thinking goes, they'll be in a position to push bold reforms needed to lift the country out of its current economic malaise. Few think the BJP will take a straight-up majority of 272, but if it gets close, it would be easy to recruit a junior partner from India's numerous regional parties and secure a ruling coalition.
But do we really have any idea of whether Modi is going to win big?
Elections in India are an inherently complex affair, with a myriad of languages and religions, regular accusations of vote buying, and, this time around, about 815 million eligible voters—more than twice the population of the U.S.
My Bloomberg colleagues Andrew MacAskill and Bibhudatta Pradhan recently pointed out a more basic difficulty in handicapping what might happen: As with many other things in India, the world of opinion polls is prone to corruption.
It's a telling example of why investing can be tricky in markets like India, where terms like "opinion polls" or "elections" might suggest one thing to an outsider but mean quite another on the ground.
The story can be found here, and it points to the possible risks of what one U.S. political theorist of the early 21st century described as the "unknown unknowns:"
The pioneer of political opinion polls in India says he has good reason not to trust them: He has been asked to rig them on more than 10 occasions over the past two decades in return for envelopes of cash.
N. Bhaskara Rao, who has conducted surveys for Robert F. Kennedy and Indira Gandhi, said he once had to fire his right-hand man after discovering the person accepted money from a political party to doctor a poll. That's why he wasn't surprised when a local broadcaster last week exposed employees of 11 polling companies offering to fix results for money.
"I used to think there were one or two respectable polling agencies, but not anymore," said Rao, 73, who helped develop the polling industry in India in the 1970s and remains chairman of Marketing & Development Research Associates, which conducts consumer market research. "It is a bit like fixing matches in cricket—everyone knows it is going on."
Before it's here, it's on the Bloomberg Terminal.
LEARN MORE