Huawei Says Enterprise Growth to Accelerate on Cloud Focus
Cornelius Rahn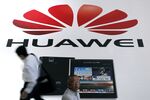 Huawei Technologies Co., China's largest phone-equipment maker, forecast its enterprise business will accelerate growth, targeting $10 billion in revenue by 2017 by winning contracts in cloud hosting and digital networks.
Global revenue from the division, which rose 32 percent last year to about $2.5 billion, will top that rate of increase in 2014, William Xu, who heads the unit, said yesterday in an interview at the CeBIT fair in Hanover, Germany.
Huawei is seeking to challenge market leader Cisco Systems Inc. by introducing software-programmed switches it says would reduce operating cost and allow faster and cheaper upgrades. The Chinese company is putting more resources into developing smartphones and offering services to businesses as its growth in network equipment is curbed by a ban in the U.S.
"Our products are ready and leading in the industry," Xu said. "Meanwhile, we forged a lot of alliances with our partners and we developed a lot of resale partners."
Huawei, based in the southern city of Shenzhen, is betting it can gain a foothold in the enterprise market by partnering with companies such as Germany's SAP AG, whose Hana data-crunching engine will allow applications to run faster on its equipment, as well as with Alstom SA of France.
Security Pitch
Huawei, which in 2011 hired John Suffolk, a former chief information officer for the U.K. government, is also trying to focus on security and transparency in its procurement to convince customers concerned about cyber-attacks and government spying. Xu wouldn't say whether reports about the U.S. National Security Agency's intelligence-gathering programs is giving Huawei an edge over Cisco in some markets.
"Others may accuse us, but all we can do is our share to prepare, to assure that our network is secure and reliable," he said.
Ericsson AB, the largest maker of wireless networks, fell
0.3 percent to 82.55 kronor at 9:47 a.m. in Stockholm. Alcatel-Lucent SA of France added 0.4 percent to 2.03 euros in Paris. Cisco dropped 0.2 percent to $21.69 yesterday in New York trading. Huawei is closely held.
Before it's here, it's on the Bloomberg Terminal.
LEARN MORE