Cablevision's Dole to the Dolans Faces a Legal Challenge
by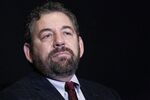 When companies determine how much to pay their executives, they generally look at what executives from similar companies make. A lawsuit filed last week by a Cablevision Systems stockholder claims that the company is really bad at doing this and ends up handing out pay packages to its father-and-son executive team that can be described only as gifts. The money paid to the Dolans certainly does seem generous, but it's no surprise the cable provider has problems comparison shopping. After all, you'd be hard-pressed to find a company similar to Cablevision.
The lawsuit compiles a list of peers drawn both from Cablevision's own analysis and that of proxy advisory firm ISS, choosing companies from similar industries with comparable market shares. When you plot executive pay for 2010-12 against current market value, it does look like Cablevision Chief Executive Officer James Dolan gets a pretty sweet deal:
Dolan's pay was actually not the most lavish of that period: Live Nation Entertainment's Michael Rapino made $56 million over the same span, $18 million of which came from stock options in 2012.
At the same time, however, Dolan was hardly presiding over a period of historic success for Cablevision. The company lost about 6.5 percent of its customers in 2010-12, while other cable providers grew by adding broadband customers faster than they lost video subscribers. Still, he may take that top spot soon. Cablevision decided last February to give him a raise. From the complaint:
"In another company these terms would likely correlate with improved performance or an increased commitment to the job on the part of the recipient. However, in the case of Cablevision, the enhanced compensation package coincided with Cablevision's poor performance as well as James' decision to commit an increasing amount of time to his role as lead singer of his own rock band, which travelled all across the country and performed at least 40 shows in 36 different cities in 2013 alone."
Cablevision does seem to operate efficiently in what the lawsuit describes as the company's primary purpose: connecting Dolans to large sums of money. James's father, Charles, brought in more than $40 million from 2010 to 2012. And neither father nor son counts Cablevision as a full-time post: Charles, who founded the cable company, also serves as chairman of AMC Networks; James is chairman of Madison Square Garden Co.
Eight other members of the Dolan family sit on Cablevision's board, and the lawsuit alleges that many of them don't bother to show up to work. Since 2010 the family has earned $100 million in compensation, according to the lawsuit.
A Cablevision spokesperson said the complaint was filed "simply to enrich the plaintiff and his lawyers," pointing out in a statement that Greg Livingston, the plaintiff, had filed another suit against the company in 2012. That suit, which alleged stock manipulation, was dismissed last year. "The Dolan family has operated the company and created extraordinary shareholder value since Cablevision's founding more than 40 years ago," the company's statement said.
Of course, if you want to hold Cablevision stock but don't like the Dolan family's management, a lawsuit is pretty much your only option. "We are controlled by the Dolan family," the company stated in its most recent annual report. "As a result of their control of us, the Dolan family has the ability to prevent or cause a change in control or approve, prevent or influence certain actions by us." That passage is filed under the section entitled "Risk Factors."
Before it's here, it's on the Bloomberg Terminal.
LEARN MORE