Live Updates from Bloomberg Businessweek Design 2014
by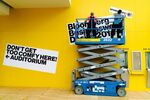 6.06pm — Recreating Gap
Last up: Rebekka Bay, creative director for Gap, in conversation with Bloomberg Businessweek's editor-in-chief Josh Tyrangiel. She says that, growing up in Denmark, her image of the Gap "was that it was this great, iconic, American lifestyle brand." Her vision for Gap today looks back at the very original decision to sell denim and tapes and records together — that people who liked music would like denim, and vice versa. What does that look like today? That's the challenge Bay has put to her design team.
Thanks for tuning in today. We'll make more materials from the conference available over the coming coming days and weeks. Come back and check it out.
5.35pm — The Birth of the Party Aardvark
Artist and designer Florentijn Hofman is the second-to-last speaker, and he starts by enthusiastically exhorting the audience to stick around. The reward is the origin story of Hofman's Feestaardvarken, which began on a high-tech Japanese toilet and ended with a 150,000-ton 'party aardvark' in the Dutch city of Arnhem. By making huge sculptures, you downsize the human," he says. "It doesn't matter how tall you are, you're all small compared to my sculptures. It takes away the ego, and that makes it easier to communicate with each other." His newest project is in China and will look like a giant octopus sock puppet with a hat on.
5.35pm — Pushing the Limits of Energy Efficiency
Chicago could be 30 percent more dense and use 50 percent less electricity, says Gordon Gill. He designed the world's first net-zero-energy skyscraper, the Pearl River Tower in Guangzhou, China, and the world's first large-scale positive-energy building, Masdar Headquarters in the United Arab Emirates. He shows a rendering of Jeddah's Kingdom Tower, which will be the tallest building in the world in four years. It's also designated primarily for residential use. It has a deck of sorts at around 2,000 feet. "Extra-large projects have a lot of impacts over time that you can't see right away," Gill says.
5.15pm – Making Gravity
Charles Howell from Framestore was the senior producer on Gravity. "It's essentially an animated film. Eighty percent of it is animated," he says. It often took 15 hours to render one film, in part because rendering light is so very difficult.
5.02pm — Enhancing Football for 105,000 Cowboys Fans at a Time
In keeping with the extra-large theme of this last session, Gregg Heard, head of Brand Identity and Design for AT&T, is talking why AT&T bought the naming rights to Dallas Cowboys stadium and what they plan to do with it. "If anyone's been to a venue these days, they're watching the game, they're watching their phone, they're watching the jumbotron. They might be watching fantasy football, they want to order nachos with their phones. And all of that is having an extreme effect on data consumption," says Heard. "So we think we're doing something unique, where we want to show up in a way where it's about using our technology, our solutions, to connect fans to the game and to the sport they love."
4.51pm — Talking to Robots
As director of product strategy for Bot and Dolly, Tobias Kinnebrew leads initiatives that advance our ability as humans to intuitively interface with the rapidly expanding number of robots populating our world. "If you're a basketball player, and you speak basketball, you need to speak to a robot in basketball. If you're a chef and you speak cooking, you need to speak to a robot in cooking, and we need to build those kinds of tools," he says. He shows a project where people make music with motion, another in which they're "turning robots into starchitects," another for real-time capture and repeat of human motion, and "today in our studio there's a robot who's learning to play the cello."
4.20pm — Design at Scale
Todd Waterbury, the Executive Creative Director for Target, says he fell in love with Target in part because of its new take on the prescription bottle — color-coding for the bottles, large print on the labels, among other innovations. It was a collaboration with designer Deborah Adler after her grandmother mistakenly took her grandfather's medication. This is the high-water mark, Waterbury says, for what design for the masses can be.
3.46pm — Let's Talk About Taxes
"You can look at your taxes ad a chore to be done, or you can look at your taxes as an opportunity to look back on your accomplishments in life." — Kaaren Hansen, Vice President of Design Innovation, Intuit.
3.46pm — There's Nothing We Won't Buy Online
One King's Lane started out as a flash-sale site. Today it's an astonishingly successful home-and-accessories e-tailer known for gorgeous photography and an eclectic — and sometimes extremely expensive — inventory. Co-founders Alison Pincus and Susan Feldman learned quickly that there was very little limit to what people will buy online. "Our third week into business we started selling floor coverings, and it was really surprising to see how quickly floor coverings — expensive ones — could get sold. That was a big a-ha moment," said Pincus. Feldman chimed in: "We don't really see a limit to what people will buy online.
A year ago, someone bought a vintage Hermes wallet for $17,000 on their iPhone. It was a Friday night, so they might have had a little bit to drink."
3.22pm — The Importance of Scale
"As we get to a certain size, 20th century designs don't seem to hold up as well as 19th century ones," says Jay Cross from the Related Hudson Yards, developers of the largest New York real-estate development ever. "Our reaction to making things bigger was to take things we like and just blow up it," he says when looking at superstructures like Cunard's Queen Mary 2. "Is this the best that 20th and 21st Century design can do? It's fine for a parade, but it doesn't work for cities." In describing Related's master plan, Cross is refreshingly candid. "I hope it works," he says. "I don't really know."
3.01pm — Rediscovering the City
James Ramsey is creating The Lowline, a subterranean park that will grow under Manhattan's Lower East Side. It was borne out of the presence of a large abandoned trolley terminal, but it's goal is more than adaptive reuse. For Ramsey, it's also a way to step back into an era before Google Maps, Yelp and the ability to easily know exactly where to find what we're looking for. "We've lost a lot of our ability to explore and discover our cities the way we used to," he says.
2.44pm — Architecture and the New Documentarians
"A great building is generous and leads to unexpected things," says architect Craig Dykers of Snøhetta, as he shows a self-shot video of a French daredevil riding a bike up and around the perimeter of the Norwegian National Opera and Ballet in Oslo. The rise of Instagram, Vine and GoPro, among other products and services, means that entire libraries of footage surrounding a new building can be generated by thrid parties without the architect or the firm ever commissioning a single photographer.
12.57pm — How to Design a Film With Realistic Monsters
Hal Hickel is the animation director at Industrial Light & Magic – you know, the company responsible for the special effects in the Jurassic Park and Star Wars films. He recently worked on the mecha-robot vs aliens smashup Pacific Rim. To create realistic exotic creatures, Hickel and his colleagues look to inspiration from nature. "With CG we are starting from a point of sterility and artificiality," Hickel said. "The more you can imbue it with familiarity in the small details, they are toeholds for your imagination." Typically to convey a creatures' massive size and destructive force, filmmakers would slow their movements down (see: the old Godzilla movies.) Today the challenge is to keep things exciting and fast-moving with software that simulates precise detail in the environment and creatures' skin, adding sense of physicality and mass. Takeaway: Hickel has the best job in the world.
12.39pm — The Inventor's Best Friend
Ben Kaufman is the founder of Quirky, a company that helps inventors market their creations. The company has facilitated inventions like app-enabled piggy-banks, gizmos to detangle computer cords, and a cutting-edge cutting board with storage drawers for ingredients. The feeling of "I made that" drives people's participation, Kaufman says. The big enemy is the patent system, which has been misused as a "weapon of corporate warfare." The "inspiration platform" feature on Quirky.com lets companies allow Quirky users to build adopt their patents.
12.21pm — Everyone's a Maker
Jim Newton is the chairman and founder of Tech Shop, which is like half-design lab, half-woodshop, with seven locations around the country. He likens the maker movement to the early days of desktop publishing. Way back when, you couldn't imagine that everyone would have a laser printer or what that would lead to. Someday, he says, "I'm really looking forward to the day when being a maker isn't an unusual thing, just everybody does it."
12.12pm — Will We All Drive These Someday?
"We knew there was a market for this [self-balancing, two-wheeled electric vehicle]," says Lit Motors CEO Daniel Kim. He's explained the gyroscopic technology that powers the … motocar? Automocycle? Now: Time-lapse video of the building of their first prototype. "I can't tell you how amazed we were that it all worked."
11.43am — From Gifs to the Tech Surge
Sha Hwang explains the process of "lenticular printing," which enabled him and his partner, Rachel Binx, to create Gifpop, which turns gifs into make physical cards. They karmic payback has been rewarding, but also, "talking to customers is a useful reminder that users are people," Hwang said. "They're not just numbers, they're not just metrics."
Now Hwang is talking about the work he's doing to fix Healthcare.gov. He can't say too much about it, he says, but he got a call late on Christmas eve, asking him to come to Maryland to be part of the "tech surge." As he describes it — "It's just people. People who have put their lives on hold, left loved ones and families. There are no drink-ups in Maryland. There are no hackathons" — he gets very, very emotional.
11.22am — Building a Government Website That Works
"Before we came along there were over 1,700 government websites, each with a different look and feel. The goal is to have one design. You shouldn't have to relearn how a website works to get what you need from the government." — Ben Terrett, head of design for UK Government Digital Service. Today gov.uk is handling more traffic than the sites it replaced, at a fraction of the cost. It won the Design Museum's Design of the Year award.
Here are his 10 design principles:
1. Start with needs. Specifically, user needs, not government needs
2. Do less
3. Design with data
4. Do the hard work to make it simple
5. Iterate. Then iterate again
6. Build for inclusion
7. Understand context
8. Build digital services, not websites
9. Be consistent, not uniform
10. Make things open: It makes things better
11.02am — Session #2: Medium
Hello Neville Brody. The London designer talks about exploring non-commercial borders and embracing failure. They made chairs you can't sit in — one has a very pointy seat — "probably with limited commercial appeal." Also, they tried to copyright the word "No."
10.28am — It's MakerBots All the Way Down
Bre Pettis, CEO of MakerBot, shows a slide of the MakerBot production facility in Brooklyn, where they are using MakerBots to make more MakerBots.
Now that people know what 3D printing is, the challenge is encouraging people to use it. Pettis says that will just take time — and not too much. "Once you havethe superpower to make anything, you never go back," says Pettis. "This year or next year, we're going to hit the point where most people either have or know someone who has a 3D printer." 10.15am – More About the Emotional Power in Wearables Gadi Amit, the leader of New Deal Design, makes an interesting point about Whistle (commonly referred to as FitBit for dogs). It's not about the dog, he says: It's about the bond between the dog and the owner. It's collecting information that lets the owner know that the dog had a good day, that he got enough exercise, had enough rest. Then Amit takes the logical next step, and shows a slide of a new type of baby monitor that looks like a little sweatband for a baby's calf. It's easy to see how that could be a huge relief for anxious new parents. 10.09am – Thank You for Doodling
9.43am – Sensors Everywhere
Timothy Morey, from Frog Design, is talking about sensing. For example: A mask that monitors air quality, "clean water ATMs" in India that report on the quality of a water filter, and Goodwill bins that can indicate when they're full and need to be empty.
He's the second presenter in less than an hour to point out that the Internet of Things is a kind of a mess right now — the problem is largely that our devices fail to talk to each other in the right ways at the right times.
9.43am – What Enterprise Software Gets Wrong Enterprise software is lousy primarily because the people who select and buy it (IT departments) are not the people who use it. As a result, people spend too much time doing "work about work," says Justin Rosenstein, co-founder of Asana. Imagine what we could all get done if we had that time back for more actual work. 9.26am – Visualizing — and Printing — Cells Andrew Hessel is presenting on the very smallest level of design — design at the cellular level. He's a genetic scientist who works at Autodesk, a design software company, and the co-founder of the Pink Army Cooperative, the world's first cooperative biotechnology company, which is aiming to make open-source viral therapies for cancer. He's showing screenshots of something they're calling "Project Cyborg" — visualizations for molecular design which can be used in 3-D printing. "It's not just all theoretical biology," he says. He shows a slide of a bio printer, a 3-D printer that's printing all the cells in a human liver. He's also working with a DNA printer: "You send an email file with a DNA sequence, and the company will send you back an actual DNA." 9.10am – Wearable Tech Has to Look Good The "Small" session begins with Hosain Rahman, founder and CEO of Jawbone in conversation with Bloomberg Businessweek's Sam Grobart. "We've got this great technology, but because you're going to put it on the face, you've got to think of it almost as jewelry. There has to be an emotional connection," he says.
8.59am – Let's Get Started
Bloomberg Businessweek editor Josh Tyrangiel welcomes the sold-out crowd of 500, and notes that while close attention will be rewarded, the conference also has a hashtag: #bbwdesign.
8.45am – Good morning!
We're here at the Yerba Buena Center for the Arts in San Francisco, where our second annual Design Conference is about to begin. The theme of this year's conference is S M L XL, and the panels are organized by scale and format. Check back over the course of the day for updates and highlights.
Before it's here, it's on the Bloomberg Terminal.
LEARN MORE