Accidental Death on Midnight Rider Set Enters Lawyer Phase
by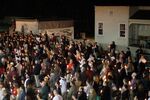 "This is not the end but rather, the beginning of a movement for safer film sets," said Richard Jones, father of Sarah Jones, an assistant camera woman who was killed by a train last month, while working on a movie production in Georgia. "There is no reason for another father to stand up here and to give this talk. … No one's daughter, no one's son, should ever die again making a film."
He spoke at a memorial service held on Friday night in Los Angeles, during which hundreds of film workers and others commiserated over the tragic—and preventable—death that occurred during the filming of Midnight Rider, a Gregg Allman biopic. The movie was shooting on a set of train tracks near Savannah, Ga., allegedly without permission, when a train unexpectedly arrived, killing Jones and injuring a handful of others. The incident has sparked widespread calls for improved safety and working conditions in the movie industry, which is sometimes driven by directors and producers who take risks that would not be permitted in other industries.
Now, as is inevitable in cases like these, lawyers have moved in. Joyce Gilliard, who was working as a hair stylist on the film, has retained a personal injury attorney in Atlanta to represent her for injury to her arm and psychological trauma. Midnight Rider director Randall Miller, has hired high-octane public relations help in the form of Matthew Hiltzik, longtime spokesperson for Katie Couric and Alec Baldwin. As is typical once professionals get involved, people have stopped talking about what happened.
"In response to general inquiries about safety on set, it is important to understand that while addressing safety concerns is a collaborative effort, involving competent and qualified safety personnel, DGA members, and other crew members, those ultimately responsible for ensuring a safe set are the employers," the Directors Guild of America said in a statement.
In the mean time, a half-dozen investigations will continue to try to sort out what happened.
Before it's here, it's on the Bloomberg Terminal.
LEARN MORE