Vipshop's Rally Proving T.J. Maxx Business Model Right
Elena Popina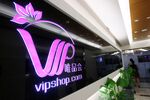 The rally in Vipshop Holdings Ltd. is showing few signs of abating 19 months after it began.
The Chinese online fashion retailer jumped 27 percent last week to $166.55 in trading in New York, extending its gain to 2,462 percent since its initial public offering in March 2012. After slumping that July, the stock has rallied in all but two of the past 19 months as demand for its marked-down Anne Klein raincoats and Nike T-shirts soared. Only one stock, Intercept Pharmaceuticals Inc., has advanced more over that time among all U.S.-listed shares with a market value of at least $100 million.
Vipshop, which uses the same business model as T.J. Maxx and Ross Stores Inc. of selling excess inventory at cheaper prices, said March 3 that first-quarter sales will double to as much as $650 million, prompting analysts from Deutsche Bank AG and HSBC Holdings Plc to raise their share-price estimates. Vipshop's share price has doubled this year after soaring 369 percent in 2013, the biggest advance on the Bloomberg China-US Equity Index. The gauge of the most-traded Chinese stocks in New York climbed 1.3 percent last week. The Shanghai Composite Index fell 2.9 percent today, while the Hang Seng China Enterprises Index of mainland stocks traded in Hong Kong slid 1.8 percent.
"There is a lack of T.J. Maxx and Ross-type of stores in China, and Vipshop with its flash sales of brand apparel fills the gap," Jeff Papp, a senior analyst at Oberweis Asset Management Inc., which manages $1.1 billion in assets, said March 7 in a phone interview from Lisle, Illinois. "People are surprised that the company keeps growing, exceeding analysts' estimates, and that's what is helping this spike in the share price."
Online Shopping
Vipshop forecast first-quarter sales to surge as much as 109 percent from $310.7 million a year earlier after reporting record revenue for 2013. The number of customers and orders in 2013 increased by 130 percent and 124 percent, respectively, from the previous year. American depositary shares of Vipshop slid 4.7 percent to $158.73 at 11:37 a.m. in New York.
China had 618 million Internet customers as of Dec. 31, a 4.6 percent increase from June, according to a report by China Internet Network Information Center. The number of residents shopping online jumped 25 percent to 302 million in 2013.
"The company has tremendous potential to keep growing its customer base," Chi Tsang, a Hong Kong-based analyst at HSBC, said by e-mail on March 7. "Internet retailers continue to do very well as they gain share from traditional retail."
Tsang lifted his share-price estimate for Vipshop by 29 percent to $162 this month, while keeping the equivalent of a buy recommendation for the stock. Deutsche Bank boosted its forecast to $184 from $134 on March 4.
The Bloomberg China-US gauge climbed to 103.75 last week, led by E-Commerce China Dangdang Inc. China's biggest online book retailer surged 33 percent to $18.66.
Before it's here, it's on the Bloomberg Terminal.
LEARN MORE