Tesla Supplier Amtek to Spur Sales With More Takeovers
Jasmine Ng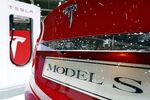 Amtek Engineering Ltd., the Singapore-based maker of Apple Inc. iPhone chargers and auto parts for Tesla Motors Inc., plans to double sales to $2 billion in five to seven years through acquisitions.
The company, which last week announced it's paying about $210 million for U.S. precision-tool maker Interplex Industries Inc., expects automotive products to fuel that growth, Chief Executive Officer Daniel Yeong said. Auto companies will contribute 40 percent of revenue in the next two to three years, up from 18 percent now, he said.
Amtek will seek out more acquisitions to add to its line of customers, which already includes Dell Inc. and Royal Philips Electronics NV. The Interplex purchase will help Amtek's sales exceed $1 billion and offer scale to win more contracts with plants in new markets including the U.S., Mexico and India.
"After you cross the psychological barrier of $1 billion, the next $1 billion is going to be easier," Yeong, 55, said in an interview in Singapore on March 6. "In manufacturing, nobody's going to put all their eggs in one small basket. They'd rather put all their eggs in one big basket."
Amtek shares jumped 6.5 percent to 57 Singapore cents at the close, the biggest gain in more than two years. A total of
2.4 million shares changed hands, almost six times the three-month daily trading average.
The advance has pushed the stock 20 percent higher since the start of the year, compared with a 1.3 percent decline in the Singapore benchmark Straits Times Index.
Immediate Entry
In contrast to Amtek, which makes larger components, Interplex manufactures miniature parts for the automotive, industrial and electrical industries, as well as for mobile and medical devices. The College Point, New York-based company's customers also include Apple, as well as auto-part makers Continental AG and Denso Corp.
The acquisition is "good for them because it extends their service offerings," said Loke Chunying, an analyst at UOB Kay Hian Pte who recommends buying the stock. "They're given an immediate entry into Mexico and India, which are among the largest markets in the world right now."
Amtek, whose shareholders include Standard Chartered Plc's private-equity unit and Yeong, said future growth will also come from increased sales from its key businesses. The next major acquisition is expected after three years, he said.
"The first three years will be digesting, working to make sure that the two companies work well together," he said, adding that Interplex "checks about 80 percent of my boxes."
Deal Financing
Amtek will probably fund the acquisition through bonds and loans, he said, ruling out a share sale because it would dilute existing investors. The borrowings will boost debt to 130 percent of equity, up from 30 percent now, Chief Financial Officer Sheila Ng said in the same interview.
The move into the automotive industry will further cut the reliance on hard-disk drives, which was Amtek's biggest business. Sales to the data storage device industry have fallen to 12 percent of revenue from as much as 30 percent, she said.
The shrinking disk-drive market, which faces competition from mobile devices such as tablets, has dragged revenue and profit lower for two years. A rebound is likely in the next two years, according to data compiled by Bloomberg.
Unlike the electronics industry's two-year product cycle, automotive contracts typically cover seven to 12 years of supply needs, the company said.
Amtek may set up new plants in Brazil in a few years, drawing on Interplex's experience in Mexico, Yeong said. The Interplex deal will give Amtek five factories in the U.S., one in Mexico and two in India.
Mexico, which sent fewer than a quarter of a million vehicles across its northern border in 1990, is poised to surpass Japan this year as the No. 2 auto exporter to the U.S., consultant IHS Automotive estimated. The automotive industry has grown so large that it generates more foreign exchange than oil or money sent home by Mexicans living abroad.
"The combined Americas including Latin America is one of the most important continents I'm tackling, which I have zero presence in today," Yeong said.
Before it's here, it's on the Bloomberg Terminal.
LEARN MORE