Hochtief Offers $1.05 Billion to Increase Leighton Stake
David Fickling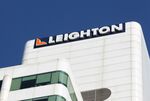 Hochtief AG, Germany's largest builder, offered A$1.16 billion ($1.05 billion) to increase its stake in Leighton Holdings Ltd. to as much as 74 percent and signaled it may consider a full takeover. The shares surged.
Leighton is a strategic investment, Hochtief Chief Executive Officer Marcelino Fernandez Verdes said in an interview today after announcing the offer. Shares in Australia's largest builder climbed 11 percent to close at A$23.09, the biggest increase since 2008, and above the A$22.15 per share Hochtief will offer to increase its current 59 percent holding.
"For us it's a core business and we always wanted to increase our stake," Fernandez Verdes said. "We will think in the future about all these questions," he responded, when asked whether Hochtief would get more benefit from full ownership of Leighton.
Fernandez Verdes, who's also a non-executive director of Leighton, is focusing Hochtief on its main building business, reversing a decade-long strategy of expanding into services. About 49 percent of the German company's revenue comes from Australia, where Leighton's work accounts for the majority of its activity, according to data compiled by Bloomberg.
"This is a step to full acquisition," Peter Esho, chief market analyst at Invast Financial Services Pty. in Sydney, said by phone today. Hochtief "want to expand their control."
Market Regulator
The German builder will look to increase its representation on Leighton's board proportional with its shareholding, Hochtief said in a regulatory statement announcing the stake build. Hochtief is itself majority owned by Actividades de Construccion & Servicios SA, or ACS, and Fernandez Verdes previously headed up the Spanish company's construction unit.
Moody's Investors Service said they'd place Leighton's Baa2 credit rating on review for a downgrade after the announcement.
Hochtief and ACS "have lower credit quality than Leighton," Maurice O'Connell, a Moody's vice president and senior analyst based in Sydney, said in a ratings opinion. "We have previously highlighted that Leighton's rating would be pressured if Hochtief seeks to appoint a majority of directors."
In the interview today, Fernandez Verdes declined to say how many seats he would seek after the stake increase is complete. Hochtief currently has three of the non-executive directors on the 10-person board, with Leighton's chief executive Hamish Tyrwhitt and chief financial officer Peter Gregg taking the other two seats.
Hochtief has been gradually increasing its stake in Leighton since last June, under creep provisions of Australian listing rules that allow large shareholders to add 3 percent to their holdings every six months.
Leighton shares rose 7.7 percent on March 7 to A$20.72, at the time their biggest jump since February 2013, on trading volume that was the highest since October. The builder said in a regulatory statement that day it didn't have an explanation for the share price move. Australia's market regulator said today it was reviewing the gain.
Creep Provisions
Today's offer "is a far more equitable way of increasing the shareholding position than using the creep up way," Fernandez Verdes said. "We have to speed up and be more active in regard to Leighton. You have to take into account that Leighton's balance sheet is very important for Hochtief."
In a separate statement, Leighton said it will consider the bid once it's received and advised shareholders to take no action.
Hochtief "made it clear that they wish the company to remain Australian and they wish the company to have sufficient free float," Tyrwhitt said in a Feb. 20 interview. "I certainly appreciate shareholders that buy and hold the stock and Hochtief have been on our register for a long time."
Hochtief may need to raise the premium it's offering to other Leighton shareholders, Esho said.
"They might have to sweeten it a little bit but I think they'll probably get the job done," he said.
Before it's here, it's on the Bloomberg Terminal.
LEARN MORE