Why I Left the U.S. to Do My MBA
Jamie Manuel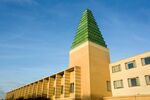 In my admissions essay to Oxford University's Saïd Business School, I wrote: "To fix the developing [health] issues in America in an innovative and creative way, I must surround myself with individuals holding different world views and unique outlooks that challenge my current perspective." Those words still resonate with me.
To learn the skills required for a global economy, leaders need immersion and experience. They cannot be learned from a book or staring at a computer screen. To find an entrepreneurial solution to growing U.S. health and wellness concerns, I had to remove myself from the familiarity of conventional American problem-solving.
Pedigree earns credibility, and I can't deny that being part of Oxford University influenced my choice to attend Saïd Business School. (It was the only B-school I applied to.) Such pedigree is not unique to Oxford, however. European business schools such as Cambridge, INSEAD, and London Business School have also earned accolades. But something deeper attracted me to Oxford.
The word "social" kept appearing next to Oxford's commitment to entrepreneurship. I hadn't seen other schools use this word. It was intriguing, and it fit comfortably with Oxford's academic and historic reputation: a lot of incredibly smart people thinking really hard about solutions to some of the world's biggest problems. "Social entrepreneurship" didn't mean helping young business people get rich quick by creating an app for the iPhone. Oxford, it seemed, encouraged the opposite: If passion were your currency and payment for service, how would you change the world?
Saïd supports its students' efforts through a variety of resources: courses in the elective curriculum, the Skoll Center for Entrepreneurship and Entrepreneurship Center (incorporated into the LaunchPad, a new area for entrepreneurial activity in Oxford), and the Venture Capitalist Investment Competition, to name a few. Online platforms such as the GOTO tutorial (Global Opportunities & Threats, Oxford) challenge me to think about the societal implications of emerging global trends I will inevitably face as an entrepreneur. Only at Oxford can business students tap into the leading research and debate by experts in an array of disciplines. These discussions have helped me anticipate global changes and perspectives and greatly influenced my thinking about any potential startup and business model.
It's been about six months now; I've settled in. I've met amazing, inspiring young business people and made strong, lifelong friendships. I've been academically challenged beyond my limits and have honed my skills to think critically and challenge appropriately. I look back at my decision to apply only to Saïd Business School. Sure, it might have been risky, but when you're passionate, people take notice. I'm thankful and humbled that Oxford did.
Before it's here, it's on the Bloomberg Terminal.
LEARN MORE