Suing Nevada on Behalf of Private Eyes
by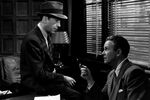 The silhouette of a mysterious dame darkens the frosted glass doors of a private eye's office. It's the scene that has launched countless detective plots, and in Nevada, the hard-boiled trope is now practically codified by law. Early last year, state lawmakers voted to require private investigators operating in Nevada to maintain a physical place of business in the Silver State.
The legislation should serve the purposes of Nevada's would-be Sam Spades, who will likely face less competition from out-of-state PIs. It doesn't suit Troy Castillo, a retired police detective who runs a private detective business out of his home in Palm Springs, Calif., a few hours drive from the Nevada border.
This week, Castillo challenged the law (pdf) in U.S. District Court in Nevada, arguing that the physical location requirement violated constitutional doctrines preventing states from discriminating against out-of-state businesses and individuals, according to background (pdf) information published on the website of the Pacific Legal Foundation, the nonprofit law firm trying Castillo's case.
The lawsuit also argues that the licensing law could threaten free speech and tangle up unrelated professions with an overly broad definition of who is a private investigator: someone paid to find information and pass it on to a client. Pacific Legal argues that the law as written would require reporters, genealogists, and teachers (among others) to get a license—and open a PI's office—before gathering and relaying information.
That last bit is a flourish typical of Timothy Sandefur, lead attorney at Pacific Legal and a man who has yet to meet a licensing law he liked. "I don't believe that the government should be in licensing at all," he says. Sandefur and lawyers at like-minded law firms habitually parachute into regulatory disputes around the country to bring lawsuits on behalf of small business owners. Recently, Sandefur won a federal court decision in Kentucky striking down a licensing law that restricted entry into the state's moving business. Notable cases brought by a like-minded firm, Institute for Justice, include a lawsuit to allow Benedictine monks to sell low-cost coffins without certification from the state of Louisiana and a national campaign against regulation in the teeth-whitening business.
Regarding Castillo's case, Sandefur says proponents justify the physical location standard by arguing that regulators need to be able to visit PIs to inspect files. (The Nevada Private Investigator's Licensing Board, whose executives are named in Castillo's suit, has yet to respond to an e-mail Friday seeking comment.) Sandefur says the real impulse for the new rule was to prevent private-eye firms that specialize in providing security details from crossing state lines and taking work from businesses based in Nevada.
Castillo's Paloma Investigative Services tends toward corporate jobs that include background checks and human resources investigations. That kind of PI doesn't necessarily make for film noir, but it doesn't require a detective's office, either. Castillo says in a statement on Pacific Legal's website that he spends 95 percent of his time working from home or from the field. "I can work in Nevada without ever stepping foot there," he says.
Before it's here, it's on the Bloomberg Terminal.
LEARN MORE