Olympic Hoop Dreams in U.S. Begin With Parking Debt: Muni Credit
Brian Chappatta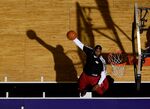 USA Basketball plans to move to Arizona after 35 years in Colorado. The first step is building parking facilities, which may not generate enough money to repay the municipal bonds financing the construction.
The home of the organization that trains U.S. basketball teams for international competition would be part of a development in Tempe, Arizona, that includes a hotel, conference center, apartments and retail space, debt documents show. The $350 million project, on grounds leased from Arizona State University, begins with a garage and underground parking venue funded with $103.5 million of privately placed debt.
The bonds are taxable and unrated, placing them in the same class as securities issued for a biblical theme park in Kentucky and a wood-pellet plant in Louisiana. Parking projects are similarly risky because they often serve as a catalyst for other development rather than generating enough money to cover debt service, said Bart Mosley, co-president at Trident Municipal Research. A study cited in debt documents forecasts insufficient revenue to fully repay bondholders at maturity.
Out of the entire USA Place project, "the parking facility is the most speculative -- you can't guarantee anybody is going to make money running this," said Mosley, who is based in New York. "The idea behind most of these parking deals isn't to build an economically viable facility on a standalone basis, but to spur economic development."
Yankees Precedent
Regardless of how the parking facilities perform, players such as LeBron James and Carmelo Anthony may still train in Tempe before the 2016 Olympics. Even as Major League Baseball's New York Yankees have averaged annual attendance of more than 3 million at Yankee Stadium the past three seasons, a parking developer defaulted on about $240 million of munis tied to nearby garages.
More than 90 percent of issuers that have failed to pay investors initially offered bonds without a credit grade, as Bronx Parking Development Co. did through New York City's Industrial Development Agency, according to data since 2009 from Municipal Market Advisors. The research company is based in Concord, Massachusetts.
USA Place shows how the $3.7 trillion local-debt market can reach beyond necessary infrastructure to jumpstart projects for economic growth. Bonds for industrial development are considered the riskiest munis because they accounted for the largest proportion of defaults from 1970 to 2011, according to the Federal Reserve Bank of New York.
Insurance Buyers
"We're just doing the bond financing to put infrastructure in place for the project," said Susan Eastridge, chief executive officer of Concord Eastridge Inc., one of the principals of the development.
The bonds are being privately sold, and insurance companies have shown the most interest, she said.
The issuer is a Wisconsin conduit agency called Public Finance Authority, a collaboration of the National Association of Counties, the National League of Cities, the Wisconsin Counties Association and the League of Wisconsin Municipalities. Since 2010 it has completed 56 deals across the country worth about $1.7 billion, said Phil Letendre, a program manager at the Madison-based authority.
Extra Yield
KeyBanc Capital Markets, the underwriter of the deal, is offering the taxable securities due in February 2021 at a 6.25 percent yield, Eastridge said in an interview.
That compares with an average yield of about 6.1 percent on high-yield corporate bonds maturing in seven to 10 years, data compiled by Bloomberg show. Benchmark 10-year Treasuries yield 2.74 percent.
USA Basketball, for its part, "has no downside" in the development of its new headquarters, said Jerry Colangelo, the nonprofit's chairman. It has agreed to a 30-year lease of the event center upon completion, he said. The site is expected to also host a satellite of the Naismith Memorial Basketball Hall of Fame, in Springfield, Massachusetts.
"Not only are we not on the hook, there is no cost to us whatsoever in what was negotiated with the developer," Colangelo said. "We basically gave them use of our name, thusly USA Place. We have no investment."
USA Basketball has been based in Colorado Springs, Colorado, since 1979. The city is home to the U.S. Olympic Complex, the flagship training center for American athletes.
Arizona Ties
Colangelo has ties to Arizona. He took over the National Basketball Association's Phoenix Suns in 1968 and was chairman of MLB's Arizona Diamondbacks when they won the World Series in 2001. He holds an honorary degree from Arizona State University.
USA Basketball's initial plan was to relocate to Glendale, Arizona, though the move was put on hold because of the recession, Colangelo said. The city borrowed more than $355 million for professional sports, and its credit rating fell as a result.
The planned development "adds another element to a growing tourism industry in the city of Tempe," said Mayor Mark Mitchell, who took office in 2012. "This is a great way to capitalize on economic development, not only for tourists but also for meeting space, for businesses and for USA Basketball."
Tempe, southeast of Phoenix, has about 167,000 residents, Census Bureau data show. The university owns the land and the developers will lease it for 99 years, Eastridge said.
Tax Incentives
Tempe plans tax incentives for the hotel and conference center, Mitchell said. The city will benefit from revenue from businesses around the site, he said.
"We're not writing a check out of our general fund," he said. "Revenue generated from this project will go back into this project."
The market study prepared by Walker Parking Consultants in Greenwood Village, Colorado, recommends charging $3 per hour, for a daily maximum of $12, or a monthly rate of $100 to park at USA Place.
While the project can probably make debt-service payments, it may not be able to pay investors their principal at maturity from parking revenue, according to the report.
'Insufficient Revenues'
The study "forecasts insufficient revenues to repay the full amount of the principal" due on the debt at maturity, according to the bond documents. To compensate for the shortfall, the borrower for the parking site has "the right to impose upon the lessees certain assessments to help ensure repayment of the bonds," according to a loan agreement in the documents.
"Because the availability of the parking facilities is an essential element of the development," the agreement says, "each lessee seeks to help assure that parking sustains its obligations for debt service."
USA Place Parking Facilities LLC, the borrower, anticipates refinancing the bonds at maturity. Because of that scenario, investors buying the bonds will probably want to own enough to be involved in any restructuring talks, Mosley said.
"It's as close to private-equity financing as you're going to get in the muni-bond world," he said. "This approach allows you to finance a development that you really need to get done even though this key element really isn't feasible."
Before it's here, it's on the Bloomberg Terminal.
LEARN MORE