Moschino's McDonald's Fashion Is Selling Out
by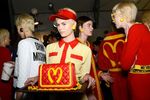 McDonald's never inspired me much in the way of style, but Italian luxury brand Moschino is begging shoppers to take another look. Included in its new fall-winter collection is a baggy red sweater dress with a design that looks like the Golden Arches logo bent into an almost-heart (it's M for Moschino) over the phrase, "Over 20 Billion Served." And as no sophisticate would dare sport a $935 faux McDonald's dress without some snappy accessories, the line includes a matching $1,265 red, quilted purse and an $85 French fry iPhone cover. There are other McDonald's inspired pieces too, such as a backpack and sweater. What's next, a McWrap dress?
The cartoony ensemble looks like something only Katy Perry would wear (she did), or something on the racks of Forever 21 (it's not), or an outfit for Ronald McDonald's tween daughter. Moschino is already sold out of the McDonald's sweater, the iPhone cover, and the backpack.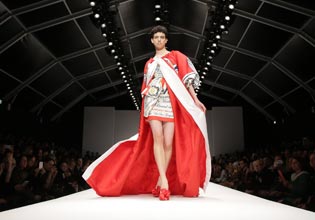 Some might howl about the absurdity of incorporating fast food into runway fashion—the socially conscious accuse the high-end fashion house of mocking low-wage fast-food workers who could never afford these clothes. (For those earning an average $7.72 an hour, that dress is worth about 120 hours of work.) But the runway show was "a crowd-pleaser," according to Style.com. Designer Jeremy Scott's "embrace of consumer culture in the name of Moschino was bright, brash, and ingenious." And it has attracted a lot of attention for the brand.
Moschino also unveiled designs inspired by such other American icons as Budweiser and Hershey. So what's this food-fashion fusion all about? Scott, a popular guy with 317,000 followers on Twitter, told reporters in Milano that it's "about taking something trashy and making something that you'll treasure forever." Perhaps he forgot that we already have MTV for that.
The industry has embraced mass-market food brands as a way to sell clothes before—remember all those Wonder Bread T-shirts? One could say the trend originated years ago, with Andy Warhol, the soup can-fixated father of pop art.
Scott told the New York Times that he's just trying to have a little fun, which will hopefully translate to clothes people crave. In his words: "Ultimately, we need no more clothes. We could function with everything that's on the earth right now. So you have to have this reason to want things. To me, it's to make you happy, and to me, that's linked to humor."
So McDonald's makes Scott happy. Consumers do seem to appreciate a little humor and irony at the expense of taste. (Think of all those ugly sweater parties.) But if Moschino's point is that McDonald's can squeeze a giggle out of us, I'd much prefer to eat a Happy Meal than wear one.
Before it's here, it's on the Bloomberg Terminal.
LEARN MORE