India's Sanitary Pad Scarcity Was the Father of His Invention
by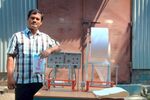 Arunachalam Muruganantham's long path to a certain kind of fame began when, as a 29-year-old early in his marriage, he realized his wife had a menstrual dilemma. She could either use a soiled rag—"I don't even use that cloth to clean my two-wheeler, " he told a TED audience in India—or spend more than the family could afford for basic sanitary pads.
To a family of modest means in India, he said, buying commercial menstrual pads would mean "we have to cut our family milk budget." Muruganantham was not a highly educated man—he had dropped out of school—but he knew an absurd situation when he saw one.
Thus began his journey as "Menstrual Man," as he came to be called after designing a relatively simple series of devices that allow rural Indian women to make their own pads. A documentary movie about him has played on the global festival circuit. (It's showing in New York on March 13 and can also be streamed in full here.)
Early on, his wife refused to test his evolving takes on the product, Muruganantham says. So he strapped a soccer ball bladder to his waist, filled it with animal blood, and fed a tube into his underwear to simulate the experience of having a period. "Like the first man to set foot on the moon … Muruganantham is the first man who wore a sanitary pad across the globe," he explained.

The machines and related equipment, with set-up and training, cost 115,200 rupees (about $1,860) each, according to a slide presentation on his website. He projects that three to 10 women can gain employment per installation and pegs average monthly net profit at 10,000 rupees. As of last year, about 1,000 of the machines had been installed in 26 states in India and six other countries, Muruganantham told the BBC. He stresses his decision to not sell the patent to a big company. "I decided to give it to women as poor as my mother," he said.
A Bloomberg News story noted last year that in India, "millions of women are held back by shame around their most basic sanitary needs." Of 355 million reproductive-age women, only 12 percent use absorbent pads or another sanitary method to stem the blood flow during their periods: "The rest tend to rely on old fabric, husks, dried leaves and grass, ash, sand or newspapers."
More immediately, India accounts for 27 percent of the world's cervical cancer deaths, according to data from the World Health Organization (PDF). The incidence rate in India is almost twice the global average, and doctors studying the disease say poor menstrual hygiene is partly to blame.
Beyond public health, the lack of adequate menstrual supplies can keep girls out of school and women out of the work force. Some estimates suggest that giving women more opportunities in India could boost the country's economic growth rate by about 4 percentage points.
Amit Virmani, the filmmaker behind the documentary, said that in addition to Muruganantham's drive to address a serious problem, he admired his self-aware humor about an improbable journey. "One of the greatest things about Muruganantham is that he never lost his pride," Virmani said in an e-mail. "It takes dignity to be able to joke about his background the way he does."
Before it's here, it's on the Bloomberg Terminal.
LEARN MORE