Indian Stocks Climb on Speculation BJP Is Gaining Support
Rajhkumar K Shaaw and Santanu Chakraborty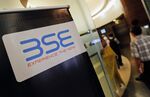 India's benchmark stock index rose to a record, completing its best week in almost a year, amid speculation the opposition Bharatiya Janata Party is gaining support before general elections that start next month.
ICICI Bank Ltd. surged 6 percent, sending a measure of lenders to its biggest advance in about six months. Larsen & Toubro Ltd. soared to its highest level since July 2011. Bharti Airtel Ltd. jumped the most since September after reports its founder group is in talks with Carrefour SA and Aeon Co. for a supermarket venture. The rupee climbed past 61 per dollar for the first time since December.
The S&P BSE Sensex advanced 1.9 percent to 21,919.79 at the close, taking the week's gain to 3.8 percent, the most since the period ended April 19. The 50-stock CNX Nifty jumped 2 percent to a record 6,526.65. The BJP and its allies, favored by investors seeking a change to revive growth, may secure as many as 232 parliament seats, according to a poll released yesterday by the Centre for the Study of Developing Societies. That's one more from the last survey in January. The BJP's competition likely diminished after 11 regional parties that formed an alliance nine days ago showed signs of falling apart.
"Markets are starting to quickly discount a favorable outcome for the BJP and its allies," Sam Mahtani, a London-based director of emerging markets with F&C Asset Management Plc, which has $150 billion in assets, said in a telephone interview today. "We have the biggest overweight on India" relative to the MSCI Emerging Markets Index, he said.
'Opportunist Front'
Divisions among smaller parties may make it easier for Narendra Modi, the prime minister candidate of the BJP, to woo coalition partners. Winning 232 seats would make the BJP-led group the biggest bloc, while still falling short of a majority by 40 seats.
A disagreement over seat sharing prompted three regional parties to scrap plans to campaign together in the southern state of Tamil Nadu, the communist parties said in a statement today. The parties said the bloc, which controls 17 percent of 545 seats, remains intact for the national election.
The so-called Third Front "will disintegrate and become part of the leading formation," Shishir Bajpai, a director of wealth advisory at IIFL Wealth Management Ltd., said by phone from Mumbai. "It's not the third or the fourth front, it's an opportunist front."
Stocks also rallied this week after the central bank said March 5 the current-account gap shrank in the October-December period to $4.2 billion, the smallest in four years. Data last month showed wholesale-price inflation in January rose at the slowest pace in eight months. Foreigners have bought a net $808 million of shares this year, the most in Asia after Indonesia, data compiled by Bloomberg show.
Larsen, Bharti
"Fundamentals have begun to look positive on the margin and the current-account deficit position has improved significantly," Ritu Gangrade Arora, chief investment officer at Canara HSBC Oriental Bank of Commerce Life Insurance Co. in Mumbai, told Bloomberg TV India today.
ICICI Bank advanced 6 percent, taking its gain this week to 15 percent. Axis Bank Ltd. surged 5.8 percent to its highest close since June 6. The Bankex index climbed 5.4 percent, the most since Sept. 19.
Larsen & Toubro soared 4.9 percent to its highest level since July 25, 2011. Macquarie Capital Securities (India) Pvt. expects 40 percent "upside potential" in Larsen's shares under "favorable macro and political outcomes," the brokerage said in a report yesterday.
Bharti Airtel jumped 5.6 percent, the most since Sept. 10. Carmaker Maruti Suzuki India Ltd. added 5.1 percent. Tata Steel Ltd. gained 1.9 percent. Reliance Industries Ltd. surged 5.7 percent, the most since Aug. 6, 2012. DLF Ltd., India's biggest developer, soared 9.7 percent, the most since July 14, 2009.
Foreigners bought a net $212 million of shares on March 6, the biggest single day purchase this year, according to data compiled by Bloomberg.
The Sensex has risen 3.5 percent this year and trades at 14 times projected 12-month earnings, compared with the average multiple of 14.5 over the past five years. The MSCI Emerging Markets Index is valued at 10.3 times.
Before it's here, it's on the Bloomberg Terminal.
LEARN MORE