Gender Parity Is a Leadership Issue
Steve Almond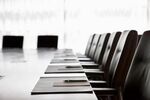 If acknowledging a problem is the first step toward finding a solution, the events commemorating International Women's Day on March 8 at least show that global business leaders are working toward greater gender parity in both the C-suite and the boardroom. To date, more than 670 business leaders have signed the CEO Statement of support for the United Nations Women Empowerment Principles.
Still, the challenge of gender parity in senior leadership remains daunting. In the U.S., the percentage of women serving as corporate officers and board members at Fortune 500 companies has remained largely stagnant over the past decade, while in Europe, women comprise only 10 percent of leadership ranks despite accounting for the majority of college graduates. The data in some other developed economies, such as Japan, are far worse.
The first step managers need to take is to confront our natural inclination to attract, promote, and develop people in our own image. In my experience, most male leaders in major corporations are not resistant to change, but we often do not recognize our unconscious perpetuation of the status quo. Until that is recognized, the pace of change will remain glacial.
More important, business leaders must lead. Organizational change happens when the chief executive officer owns an issue, sets clear targets, and is held to account if those goals are not met. Too often, responsibility for this issue is delegated to the human resources department.
If these steps are taken, other measures have a fighting chance. For example, experience has shown that male leaders are better at promoting their value—not because of some innate function of gender, but because they are comfortable highlighting their own achievements. Women, on the other hand, tend to sit back in silence and let their work speak for itself.
The value of mentorship programs for women is well known, but men—particularly men in the C-suite—need mentoring too on how to help women advance. Pairing young professionals with senior leaders will help the latter to recognize unconscious bias better and, hopefully, to create solutions to address it.
Much of our unconscious bias is derived from an increasingly outdated attachment to the rhythms of the mid-20th century corporate office—jobs were done during set hours, on set days, in set places. This arrangement placed mothers at a profound disadvantage, causing many to feel work and family were mutually exclusive. That perception must change. Technology and globalization have changed the workforce. Leaders who embrace this new dynamic can unlock a great deal of female talent.
There is no one quick-fix solution, but if we continue to see diversity and parity as HR problems, rather than as integral to the future success of our businesses, we'll never crack the code. The way to broaden the composition of the C-suite, the boardroom, and the female leadership pipeline is to have those who already have a seat at the table personally committed to making it happen.
Before it's here, it's on the Bloomberg Terminal.
LEARN MORE