Does Foot Locker Have Too Many Nikes?
by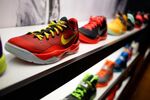 Any coach will attest that it's dangerous to rely too much on one player. But in the game of selling sneakers, that's exactly what Foot Locker is doing. Roughly two out of every three pairs of shoes it sells have a swoosh on them.
At the moment, that concentration is a strength. Nike is shooting lights-out with customers. In the past six months its footwear sales have surged 7 percent—and that means Foot Locker is racking up points as well.
This morning, Foot Locker reported a 4.6 percent increase in sales, reaching $1.79 billion in the fourth quarter, while profit surged 19 percent to $121 million. And it put up those numbers at a time when other retailers selling everything from apparel to electronics had been slashing prices and still struggling to lure customers.
Perhaps it was the rash of special-edition holiday sneakers. Perhaps it was stellar customer service. Either way, it's notable that Foot Locker seems to be largely unaffected by Zappos.com and other Web-only retailers offering free shipping and free returns. Foot Locker gets just 12 percent of its sales from online these days. And its brick-and-mortar footprint, at 3,500 stores, has been remarkably static.
Finish Line, a much smaller competitor, is also successfully fending off the Web rivals. In the past year it opened a net of 210 stores, bringing its tally to 886, and recent-quarter sales at stores open at least a year rose 7.1 percent.
Foot Locker knows how fleeting its success can be. If Nike gets hamstrung or decides to play for another team, the shoe seller will have no way of replacing it. Manufacturers like Nike also kick in cooperative marketing dollars and coordinate discounts. Here's the risk warning from the Foot Locker's Securities and Exchange Commission filing:
"Our inability to obtain merchandise in a timely manner from major suppliers (particularly Nike) as a result of business decisions by our suppliers or any disruption in the supply chain could have a material adverse effect on our business."
What should be making Foot Locker investors a bit nervous is that Nike is doing an end-run around its middlemen much more often. In the past six months its direct-to-consumer sales surged 18 percent, thanks in part to new Web stores in Japan and Brazil; Nike's wholesale revenue, meanwhile, increased only 5 percent. The shoe giant now collects almost 20 percent of its dollars directly from the consumers who lace up its shoes, up from 15 percent two years ago.
To be sure, Nike needs Foot Locker pretty badly. Few other outfits are willing to maintain 3,500 standalone stores featuring little besides sneakers. But it's doubtful that the shoemaker would ever rely on one retailer for two-thirds of its business, as Foot Locker does with Nike.
And brand-driven companies such as Nike are always wondering: What if we did all of this ourselves? How hard can running a store be? The oft-cited paragon is Apple's retail machine, and the attraction is the chance to own the all-important "customer experience" from start to finish.
Foot Locker, meanwhile, is trying out some new plays of its own. In July it bought Runners Point Group, adding almost 200 stores to its rubber-soled empire. Not surprisingly, most of those stores are in Germany: Adidas territory.
Before it's here, it's on the Bloomberg Terminal.
LEARN MORE