Under Shadow of Crackdown, Less Luxury Fashion Paraded at China's Big Government Meetings
Christina Larson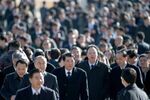 Once a year, China's Great Hall of the People becomes an important place to see and be seen for some 3,000 delegates attending the legislative sessions of the National People's Congress and the Chinese People's Political Consultative Conference. In the past it's been quite a fashion show. But this year, bowing to political winds, expensive ostentation is out–and low-key style is back in.
In 2012, photographs of delegates strutting their extravagant stuff went viral on Sina Weibo, China's equivalent of Twitter. Zheng Wei, a reporter for Singapore's Straits Times, even went to the trouble of matching photos of officials sporting designer jackets, bags, and belts with their probable price tags: the Hermès belt with golden buckle for 6,000 yuan ($979); the plaid Burberry tote for 4,950 yuan; the crimson Céline handbag for 28,500 yuan; and more. (The archived photos were collected and preserved by the Hong Kong-based China Media Project.)
This year, by contrast, delegates largely left designer labels at home. As Liz Flora of Jing Daily, a website that tracks the business of luxury in China, wrote, delegates were "notably more scaled back in their ensemble choices than they have been in recent years" as most dearly hoped "to avoid public criticism for wearing expensive outfits." There were a few exceptions, though mostly among the celebrity Party members. For instance, Song Dandan, a well-known actress, showed up in a Louis Vuitton jacket. But unlike public servants, whose salaries on paper are quite modest, she has an obvious means to make money other than accepting bribes.
According to Chinese media reports, past perks of attending the legislative sessions were also curtailed this year: The meals were simpler, and less alcohol was served. Tapping at smartphones during certain sessions was forbidden.
The extent of President Xi Jinping's ongoing crackdown on corruption, vice, and public displays of official excess has surprised many China watchers. "This is the most sustained drive against high-level corruption since the advent of economic reforms in the early 1980s," Andrew Wedeman, author of Double Paradox: Rapid Growth and Rising Corruption in China, recently told Shai Oster of Bloomberg News. "Every anticorruption campaign is an exercise in public relations. They're trying to build legitimacy."
Before it's here, it's on the Bloomberg Terminal.
LEARN MORE