Cable Says Tory EU Referendum Policy Hits U.K. Investment
Robert Hutton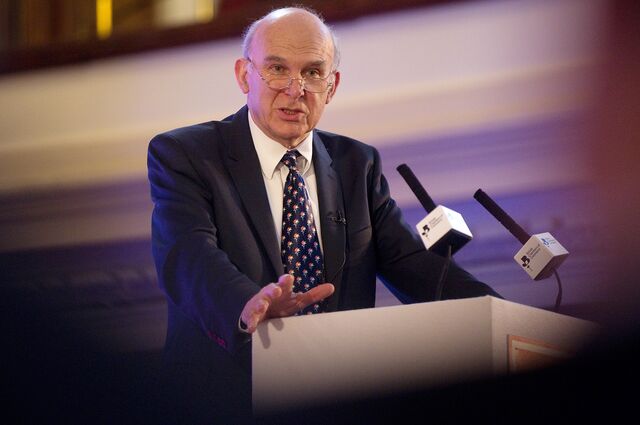 Prime Minister David Cameron's promise of a referendum on leaving the European Union is damaging investment in the U.K., Business Secretary Vince Cable will say in a renewed attack on his party's coalition partners.
Cable will open the Liberal Democrats' spring conference in York, northern England, today with a speech accusing Cameron's Conservatives of being in a "funk" brought about by the electoral success and rising poll ratings of the U.K. Independence Party, which is seeking withdrawal from the bloc.
"I meet businesses on a daily basis -– from carmakers to banks; big and small; British, Japanese, American, Indian, German," Cable will say, according to extracts released in advance by his office. "They tell me that they invest, or will invest, in Britain because they have guaranteed access to the EU single market. If that access is put at risk, they will look elsewhere."
The business secretary has been at the center of a series of coalition spats this week, as the Tories and Liberal Democrats stake out their positions ahead of May's European and local elections and next year's general election.
Cable clashed yesterday with Tory Home Office minister James Brokenshire over whether foreign workers help the economy, as the Conservatives press their case for capping immigration. Two days earlier, Cameron pre-empted the business secretary by announcing an increase in the minimum wage that Cable had been been due to make public later in the month.
Before it's here, it's on the Bloomberg Terminal.
LEARN MORE