BOE Says Rate-Increase Expectations Rose to Two-Year High
Fergal O'Brien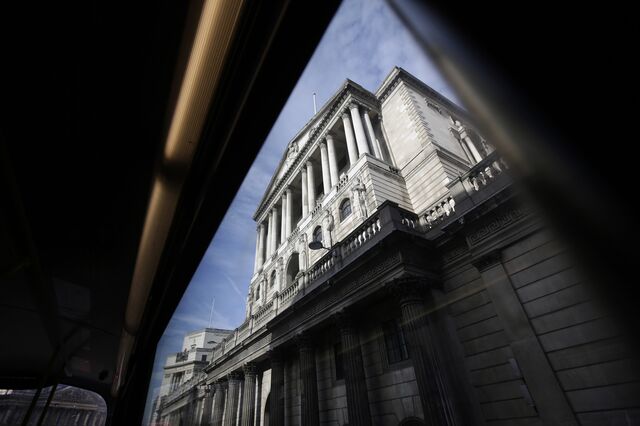 The Bank of England said expectations for an interest-rate increase in the coming 12 months climbed to the highest in almost two years, as the economy strengthened.
Forty percent of respondents to the BOE's quarterly Inflation Attitudes Survey, carried out last month, predict the benchmark rate to rise in the period. That's up from 34 percent in November and is the highest reading since May 2012. Thirty-seven percent anticipate the rate will stay the same.
BOE Governor Mark Carney has pledged to keep borrowing costs at a record low at least until unemployment falls to 7 percent. With that threshold approaching -- the jobless rate is currently 7.2 percent -- Carney was forced to revise his so-called forward-guidance policy last month to reassure Britons that rates will stay low.
The BOE added a new question to the survey on rates, asking consumers where they think the benchmark will be in one year's time. In the poll, 50 percent of respondents said they expect the key rate to be between zero and 1 percent, while 35 percent see it at 1 percent to 2 percent. The Monetary Policy Committee yesterday kept the rate unchanged at 0.5 percent, where it's been since March 2009.
In the survey, published in London today, respondents said the current rate of inflation was 3.5 percent. That compares with an actual figure of 1.9 percent in January.
BOE Satisfaction
Inflation expectations for the coming year fell to 2.8 percent, the lowest since February 2010, according to the survey. That's down from 3.6 percent in November. Five-year expectations were at 3.2 percent.
Satisfaction with the way the BOE is doing its job has increased in the past quarter, the survey showed. Asked to assess how the central bank is "doing its job to set interest rates to control inflation," the net satisfaction balance was 30 percent, up from 23 percent in November. Carney and other MPC members are due to testify at a Parliament hearing next week on their latest growth and inflation forecasts.
The central bank also added a question on the housing market to the survey. Asked about property prices, 18 percent of respondents expect no change to values in the next year, 31 percent expect an increase of as much as 5 percent and 21 percent predict 5 percent to 10 percent. Of respondents in the south east, including London, a 5-10 percent increase in house prices was predicted by 27 percent of respondents.
The survey of 3,949 people by GfK NOP Ltd. was carried out Feb. 6-18.
Before it's here, it's on the Bloomberg Terminal.
LEARN MORE