Why Doesn't Chipotle Do Sustainability Reporting? It Hasn't Needed To
by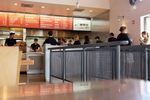 Chipotle Mexican Grill has built a reputation for serving "responsibly raised" food—a term the burrito chain even trademarked—but now investors are asking the company to prove it. Leslie Patton of Bloomberg News reported on Wednesday that Trillium Asset Management and Domini Social Investments, a shareholder, filed a proposal for the chain to start generating annual sustainability reports, which will be up for a vote at Chipotle's annual meeting in May.
What's surprising is that a restaurant that focuses its branding so heavily on locally sourced food, antibiotic-free meat, and sustainable farming doesn't already regularly brag about the fruits of its efforts in an official report. It also illustrates how Chipotle's marketing, while limited, has been highly effective. Over the last 20 years, consumers have eagerly embraced its message about high-quality food and responsible farming, no reports required. In other words, perhaps Chipotle hasn't done sustainability reporting because it hasn't needed to. This might change as the chain grows.
Other fast-food companies armed less heavily with do-gooder cred, including McDonald's, Burger King, and Dunkin' Brands, offer some form of corporate social responsibility reporting. McDonald's, in its first CSR report (PDF) in 2002, said it aimed to provide "information that is clear, that provides stakeholders with reliable and relevant information to invite further discussion, that serves as an internal management tool for continuous improvement."
Chipotle spokesman Chris Arnold told Bloomberg News that the company has never done formal sustainability reporting because it has "finite resources"—its marketing budget is small compared with other chains—and would rather put them toward making change than toward communicating it. With revenue of $3.2 billion and profit of $327.4 million, however—more than Burger King or Dunkin' Brands—Chipotle does have some room to stretch, if shareholders ask it to.
The chain offers some measurable impacts on its website—for instance: "By using 100 percent recycled content in our napkins, we save over 22 million gallons of water per year." But it does not appear to measure the effect of the many other practices the company touts—for example, how much energy is saved by using locally sourced food and how much pollution it keeps out of the environment by avoiding so-called factory farms. Chipotle's identity is deeply tied with being responsible—the question now is how big of a difference it's actually made.
Before it's here, it's on the Bloomberg Terminal.
LEARN MORE