Wes Anderson's Beautiful Things
The director creates luxurious sets filled with covetable items. So why aren't they for sale?
By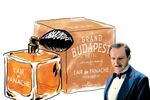 Shortly after we meet Gustave H., the hero-concierge played by Ralph Fiennes at the center of Wes Anderson's The Grand Budapest Hotel, we get a whiff of his cologne. Several bottles of clearly labeled L'Air de Panache are lined up in his room, and there's another in his coat for liberal spritzing throughout the day. For the French première in February, a Parisian boutique even created a batch. It's supposed to smell like apples and the woods, with base notes of old lady.