UNC Responds to Our Cover Article on College Sports and Fake Classes
Paul M. Barrett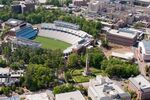 Reacting to our recent cover article on the University of North Carolina's academic-fraud scandal and how it relates to the big business of college sports, the university, via Vice Chancellor Joel Curran, got in touch to emphasize how Chapel Hill is already responding to revelations that campus academic advisers encouraged top athletic recruits to enroll in fake lecture classes that never met. Here's Curran's missive in full:
Your March 3 print edition cover story, "In Fake Classes Scandal, UNC Fails Its Athletes—and Whistle-Blower," tells only part of the story. The University of North Carolina at Chapel Hill did make well-documented mistakes and has publicly acknowledged and apologized for those transgressions. While Paul Barrett focused on our past, he neglected to fully detail the work we are doing to reform and reshape academic support at Carolina and to ensure this does not happen again.
Since the improprieties were discovered in 2011, we have taken decisive action. Carolina instituted a number of reforms, with more in progress, to help us give every student-athlete the opportunity to realize his or her full potential in the classroom and on the field. Initial actions include new governance and accountability standards in our Academic Support Program for Student-Athletes, new systems for classroom audits and course oversight, and revamped department structures and reporting relationships to ensure checks and balances at every level.
We are seeing results already. Our 2013 first-year class includes 201 student-athletes, and after the first semester their collective GPA is 2.9. To continue this progress, a task force of representatives from faculty, admissions, and athletics is designing a program for student-athletes that will lead to a new academic support model for all undergraduates. Our goal is to create an academic success program that is one of the best, if not the leader, among peer universities.
The University did ask for an independent review of Mary Willingham's work. That is not an indictment of Ms. Willingham [an academic tutor who spoke out about classroom corruption at UNC]. We agree with her claims that more reforms are needed in collegiate athletics. Yet valid questions have been raised about Ms. Willingham's methods and conclusions, which she acknowledged. The careful examination of methods, data, and reporting is standard practice at research universities, and the key to ensuring the validity of published findings. It is why we welcome close scrutiny of our reform efforts.
We cannot undo the past events chronicled in Mr. Barrett's article, but we are learning from them and are using them to create a better future for our students and the University. I invited Mr. Barrett and his colleagues to follow up with us and see how we are doing. That is the Carolina story worth telling.
NOTE: Peter Grauer, the chairman of Bloomberg L.P., which owns Bloomberg Businessweek, is a trustee of the University of North Carolina at Chapel Hill and sits on its Foundation Board and the UNC Global Research Institute Board.
Before it's here, it's on the Bloomberg Terminal.
LEARN MORE