Six Snack Bars for Grab-and-Go Nutrition
A few startups—and Starbucks—take the grab-and-go snack bar beyond bone-dry granola
By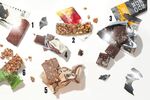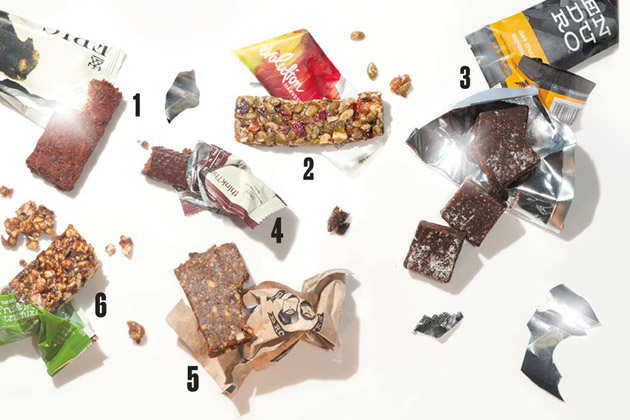 Yes, you're chained to your desk, but vending machine Fritos aren't the answer. Here are six new grab-and-go snack bars that deliver on actual nutrition, if not always great flavor.
1. BISON BACON AND CRANBERRY
Epic
If grains and fruit aren't sating hunger pangs, the 100 percent grass-fed, organic meat in these bars provides more protein. The mouthfeel is closer to meatloaf than beef jerky—there's none of that tough chewiness—and it's balanced with tangy cranberries to create a satisfying mini-meal.
200 calories, $2.49; epicbar.com
WINNER
2. PEPITA ALMOND RAISIN CRANBERRY
Evolution Harvest
Unlike some energy bars, this Starbucks offering has ingredients you can identify—whole pumpkin seeds and cranberries, held together with agave nectar. The bar is pliable but also has a pleasing crunch.
200 calories, $1.95; starbucks.com/promo/evolution-harvest
3. DARK CHOCOLATE ESPRESSO
Enduro
Originally intended for bikers or hikers who have one hand free, each hefty slab is subdivided into 100-calorie squares. The resulting bites look like unbreaded Fig Newtons—and taste like them, too, as they're made from dense fig paste spiked with cocoa and coffee. Delicious though slightly gummy.
400 calories (4 servings), $4.49; endurobites.com
4. DIVINE MINT CHOCOLATE COCONUT
ThinkThin
Started by a former model, ThinkThin is like Snackwells for a new era. The goal of this chocolate-covered stick is to prove "natural, better-for-you ingredients can actually taste good." It's a sweet improvement on sugar-free offerings, but it's too small to fill you up.
170 calories, $1.69; thinkproducts.com
5. FABULOUS GINGER PEACH
Bearded Brothers
The most virtuous—and earnest—of the bunch, with brown paper packaging and seven simple ingredients: dates, almonds, walnuts, peaches, ginger, chia seeds, and salt. There's no preservative or sugar, so it's gluten-free and vegan-friendly. It has a nice balance of zest and nuttiness.
238 calories, $3.49; beardedbros.com
6. FRUIT & SEEDS TRAIL MIX
The Good Bean
The clear packaging shows nutty kernels that are actually roasted chickpeas. But they're not crispy enough. Added sugar brings out the dried fruit flavor, but it still goes down like something you'd buy at a health food store. Too dry.
130 calories, $1.79; thegoodbean.com
Before it's here, it's on the Bloomberg Terminal.
LEARN MORE