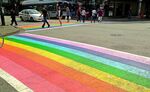 A first-time visitor to San Francisco's Castro district might think a bomb packed with rainbow paraphernalia had just exploded – light poles are draped with splashy banners, neon signs glow in restaurants, and a jumbo-sized flag flies above a public plaza.
Now the bowmageddon is primed to become complete, with a plan to bring in cheery new crosswalks striped with all the colors of the visible spectrum. If it happens, the Castro will become the only place in America where an honest-to-god meteorological rainbow could actually find camouflage.
The community voted a year ago to install some form of decorative crosswalks, to be funded by the Castro Community Benefit District, as part of a sidewalk-widening project. In addition to the prismatic crossings, voters could opt for other, less fantastic, designs, with one patterned like the foyer in the historic Castro Theater and the other mimicking catenary wires that hang above the streets. Public voting to choose a single winning design ended this week, and the top choice and location of the new crosswalks should be announced soon.
You would think that San Francisco, a city that originated the rainbow flag, would've done this years ago. But in fact, it was beat out by Vancouver (see the above photo), which installed rainbow crossings back in 2013 (and before that West Hollywood – thanks to commenter Martin for pointing that out). And perhaps surprisingly to people who don't live in the neighborhood and know it's provincial politics, not everybody is happy about these peacock-colored pathways. At the The Castro Biscuit, commenters have vented their spleen over the district's alleged transformation into a gaudy spectacle. "Please let's not turn the Castro into a gay theme park," says one. "Bandanas really? I'm just going to be thinking hanky code every time I walk over it," quips another.
So what might the gayborhood's locals and tourist crowds soon be padding over? Here's the straightforward rainbow option (or as labeled, "Modern Art - Parallel Stripes"):

The theater-foyer design:

The rainbow bandanas!

And here's the electric-wire one, which a Castro Biscuit reader rather unfairly says "looks like one of the numerous drugged/drunk homeless in the area was given a paint brush and some free time."

Top image: François Péladeau / Flickr