Microsoft Hopes Titanfall's Robots Can Save the Xbox One
Its console sales need a big boost from Titanfall
By and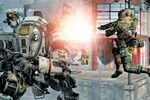 Sales of Microsoft's new game console, the Xbox One, started strong with some 3 million sold around the world from its Nov. 22 launch to the new year. Since then, though, the consoles have piled up on store shelves. Researcher NPD Group estimates that Sony's PlayStation 4, introduced on Nov. 15, outsold the Xbox One in January by at least a 2-to-1 margin in the U.S. And on March 4, Sony announced that the PlayStation 4 has sold 6 million systems and 13.7 million games, including 2.1 million copies of Killzone: Shadow Fall, an exclusive to the PlayStation. Console makers that log big monthly sales typically report them; Microsoft hasn't so far in 2014.
Microsoft is betting it can sell more Xbox Ones on the strength of an online multiplayer game called Titanfall, which will be released only for its consoles on March 11. "It's hard to overstate the importance of Titanfall to the Xbox One release this year," says Yusuf Mehdi, chief marketing and strategy officer for Microsoft's devices and studios. "For us, it's a game changer. It's a system seller." Titanfall players climb into giant fighting robots to duke it out on a war-ravaged planet. Developed by Respawn Entertainment, a studio founded by veterans of the blockbuster Call of Duty franchise, it's the "single-most anticipated game of 2014," according to review aggregator Metacritic.
A February beta test for Titanfall attracted more than 2 million players, overloading some Xbox servers. The question is whether one game will be enough to persuade customers choosing between Xbox and PlayStation to pick the costlier Microsoft console, says Michael Pachter, an analyst at Wedbush Securities. The Xbox One costs $499, and the PlayStation 4 goes for $399. Now that hard-core fans already have their consoles, "Sony's going to beat them if Microsoft doesn't cut price," Pachter says. Sony spokesman Dan Race declined to talk about the competition.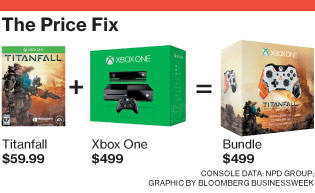 For Titanfall's U.S. launch, Microsoft is rolling out an Xbox One bundle priced at $499 that includes a free copy of Titanfall, which by itself will retail for $59.99. In the U.K., where an Xbox One runs £429 ($715), the company has announced a price cut to £399 with or without the game. Piper Jaffray analyst Michael Olson says Titanfall will likely help sell about 500,000 Xbox Ones in March, and sales of the game alone ought to be much higher. "Barring any technical issues with the launch, Titanfall is capable of selling 4 million units in March and an additional 4 million units after," Olson says.
Sony is also releasing an exclusive game in March, a superpowered action adventure called Infamous: Second Son. It will probably sell about 1.5 million copies, says Wedbush's Pachter. Sony, which developed Infamous internally, has a lot less riding on it than Microsoft does on Titanfall. That's partly because Sony has several other exclusive games coming up and has courted developers whose games don't require as much expensive cloud storage.
Despite the positive buzz, Titanfall faces obstacles beyond Sony's sales advantage. Microsoft's efforts to sell the Xbox One as more of a general entertainment device akin to Roku's streaming players or Apple TV has left hard-core gamers skeptical of the company's long-term commitment to their pastime, says Gartner analyst Brian Blau. A lower-resolution version of Titanfall will be available for the older-model Xbox 360 and Windows PCs by the end of March, perhaps limiting the game's ability to sell Xbox Ones. Above all, the cost of the Xbox One remains a problem, Pachter says. "The competition this week is, let's have exclusive content," he says. "Next week the competition will be, how do we compete on price?"
Before it's here, it's on the Bloomberg Terminal.
LEARN MORE