Drunk With Frank Sinatra
Jack Daniel's is selling an Ol' Blue Eyes bottle for a price the singer would never have paid
By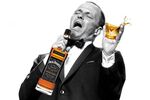 The love affair began one night in the 1940s when Frank Sinatra asked his pal Jackie Gleason to recommend a drink that would get him "smashed." Gleason shot back: "Jack Daniel's! That's a good place to start." The crooner soon became J.D.'s most conspicuous imbiber. He kept a bottle nearby onstage. He consumed it late at bars after his sidekicks told the squares to go home. When he died in 1998, he was buried with a flask of the stuff.
Jack Daniel's wasn't popular when the singer first took a fancy to it; with Sinatra's endorsement, it became America's best-selling whiskey. "It was one of those authentic relationships," says Matt Blevins, senior brand manager at the Jack Daniel Distillery in Lynchburg, Tenn. "We never paid him."
Maybe they should have. This year, Sinatra has joined the growing ranks of celebrities like Bethenny Frankel (Skinnygirl cocktails), Sean "Diddy" Combs (Cîroc vodka and DeLeón tequila), and Kid Rock and Mila Kunis (Jim Beam bourbon) who are aligning their names with liquor. He's the posthumous endorser of Jack Daniel's Sinatra Select, developed by the distillery and the singer's family. As an ad explains, with cheerful morbidity, the two go way back: "They were inseparable. And as it turns out, they still are."
Sinatra was no whiskey snob. "I don't remember Frank drinking fancy Scotches and stuff like that," says Robert Finkelstein, co-chairman of Frank Sinatra Enterprises. Still, it might please him to know that his swill is more expensive than those of his rival endorsers, with a typical price of $175. (Jack Daniel's touts its "rich amber color" and "pleasant smokiness.") It's not as costly as Pappy Van Winkle's Family Reserve, whose bottles have a cultlike following and have sold online for as much as $800, but it's on the top end for an American spirit. That's "just madness," writes Geoff Kleinman, managing editor of drinkspirits.com. "We have no problem with high-priced spirits, but there has to be some kind of case made to justify their price."
Blevins describes Sinatra Select in terms the singer might have found egg-headed. He gushes that the whiskey was aged in handcrafted barrels to give it a "robust oak flavor" and "a strong, nice spice character." He's also excited about the packaging, which he says the Sinatra family helped design: The coffin-shaped box comes with a book, A Timeless Story of Friendship, about the crooner's relationship with the brand.
The whiskey inside is just fine. It's smoother and more full-bodied than the standard Jack Daniel's. At 90 proof, it will definitely get you smashed. And in the three months since its release in New York, Miami, and Las Vegas, it's become a hit. When I bought a bottle in New York in February, the price had reached $225. Finkelstein notes it's even more expensive in Los Angeles, where supply is running short. Clay Risen, author of American Whiskey, Bourbon & Rye, credits the cost increase to a new group of moneyed bourbon drinkers who gravitate to the higher-priced stuff because they've yet to develop discerning palates. "It's the same people who are driving the Pappy phenomenon," he says. "That's who Jack Daniel's is playing to."
Risen says it won't be long before these neophytes discover that price isn't a reliable indicator of quality. "A few years from now, could they pull the same trick?" he wonders. Frank would never have fallen for it.
Before it's here, it's on the Bloomberg Terminal.
LEARN MORE