How the Chevron RICO Ruling Relates to Abortion Clinic Protests
Paul M. Barrett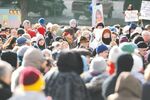 At 485 pages, U.S. District Judge Lewis Kaplan's ruling favoring Chevron in its Ecuadorian pollution fight will keep legal scholars busy for years. Kaplan declared that a multibillion-dollar Ecuadorian judgment against Chevron in 2011 was so infected by fraud that the plaintiffs—Ecuadorian rain forest residents—and their American lawyer may not profit from the ill-gotten verdict. The New York judge also made some fascinating remarks in his ruling this week about judicial authority to regulate protests at abortion clinics, which I'll return to in a moment.
To recap: Kaplan found lead plaintiffs' attorney Steven Donziger liable under the civil provisions of the Racketeer Influenced and Corrupt Organizations Act (RICO). The judge concluded that what started in 1993 as a contamination-liability lawsuit evolved over two decades into a coercive shakedown scheme. The ruling will make it much more difficult for Donziger and his clients to enforce the Ecuadorian judgment in the various countries where the plaintiffs are seeking to seize and sell off Chevron assets.
An Ecuadorian trial court imposed a $19 billion penalty on Chevron in 2011 for contamination that occurred in the 1970s and 1980s. Ecuador's Supreme Court upheld the liability finding but halved the damages to $9.5 billion. Contesting its culpability for whatever pollution remains in the Andean rain forest—and there's plenty—Chevron refused to pay. The company lacks assets in Ecuador, so Donziger & Co. have sought to enforce the judgment in Canada, Argentina, and Brazil, where Chevron does have substantial investments.
Kaplan, however, imposed an order (or, in the legalese, an injunction) that no Chevron money may flow into Donziger's pocket or the pockets of those he claims to represent. The U.S. judge found that Donziger had used bribery and coercion and had fabricated evidence to win the Ecuadorian judgment.
Donziger denies wrongdoing and vows to appeal. The U.S. Court of Appeals for the Second Circuit is not likely to show much interest in his ad hominem attacks on Kaplan, whom the plaintiffs' attorney accuses of acting out of personal bias against him and cultural disdain for the Ecuadorian judiciary.
The New York-based Second Circuit will, however, give serious consideration to Donziger's objection on a more technical point: that RICO, properly interpreted, does not give a trial judge the authority to enter the kind of injunction Kaplan announced in the Chevron case.
Other federal courts have clashed over whether private parties invoking RICO's civil provisions may obtain such an injunction, and the question is unresolved in the Second Circuit. Donziger frames the issue as Chevron—with Kaplan's support—trying to bully him and his clients by distorting the meaning of RICO.
Anticipating Donziger's appeal on the RICO-injunction point, Kaplan wrote a mini-treatise on the issue. And that's where abortion-clinic protests came into the picture.
Explaining why private parties may seek judicial injunctions in civil RICO cases, Kaplan wrote that "the most persuasive analysis of the issue thus far" is found in a 2001 ruling by Judge Diane Wood in a case called National Organization of Women v. Scheidler. Wood, a member of the U.S. Court of Appeals for the Seventh Circuit in Chicago, said that NOW and allied abortion clinics could use RICO to obtain a court order restricting the activities of aggressive anti-abortion protesters who sought to block access to women's health centers.
RICO, enacted in 1970 to combat organized crime syndicates, has expansive language that private litigants have used in all manner of commercial disputes. Judge Wood concluded that the most sensible reading of the complicated statute is that it let the abortion providers seek court protection against elaborately planned and executed blockades that sometimes included physical intimidation and violence. She pointed to language in the anti-racketeering law granting trial judges jurisdiction to "prevent and restrain" RICO violations.
Kaplan agreed. The statute, he said, creates this authority "generally rather than limiting the jurisdiction conferred only to cases brought by the Attorney General or some other public actor." Citing Wood's reasoning, he added: "This reading of the statute gives the words their natural meaning and gives effect to every provision in the statute." Kaplan continued: "It is consistent with Congress's intent not merely to compensate victims but to turn them into prosecutors, 'private attorneys general,' dedicated to eliminating racketeering activity."
Will the Second Circuit view Chevron as an appropriate "private attorney general," seeking to restrain the depredations of an unscrupulous attorney-activist? Or is Chevron merely grasping for any legal weapon it can to attack the Ecuadorian judiciary's finding that the company must pay to clean up long-ago pollution in the rain forest?
Can Donziger properly by analogized to the anti-abortion protesters in the Chicago case? And are Donziger and his fans in the environmental movement keen to argue that Judge Wood was wrong when she sided with NOW and pro-choice medical providers?
Twenty years of litigation hasn't—tragically—cleaned up any waste oil pits in the jungle. But it has continually generated intriguing legal questions. More are likely to come.
Before it's here, it's on the Bloomberg Terminal.
LEARN MORE