Danes Lured by Cash Defy Warnings on One-Year Debt: Mortgages
Frances Schwartzkopff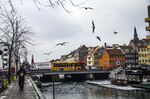 With a growing software business, three children, two cars and a house in the Copenhagen suburbs, Jacob Larsen is disregarding central bank warnings and sticking with his practice of refinancing his mortgage every year.
"It's meant more cash in hand," Larsen said. "We've traveled, we've spoiled our kids, we've had a good life."
Larsen is among the three out of 10 Danish homeowners with loans backed by annual bond sales, the country's most popular adjustable-rate product for financing ownership amid record-low interest rates. Denmark's central bank, the country's financial regulator, and international credit-rating companies have warned since at least 2009 that so much one-year debt makes the $550 billion market vulnerable to a sharp decline in investor demand.
Starting this month, regulators and lawmakers plan the biggest changes to Denmark's mortgage market in more than a decade to ensure it can function through a market freeze such as the one that followed the collapse of Lehman Brothers Holding Inc. Banks have been selling the bonds almost since the government first allowed adjustable-rate mortgages 18 years ago.
Yields on bonds sold in auctions that ended Friday plunged lower than the rate the U.S. pays to borrow for two years, and investors' bids in some sales totaled more than twice the bonds offered. Banks sold $35 billion of securities to replace notes that come due March 31.
'Unlikely Scenario'
"It's an unlikely scenario that there won't be anyone to buy these bonds," said Larsen, chief operating officer and co-owner of BridgeIT, which in January signed a deal to help EBay Inc. expand into Russia. "Somebody would step in -- the central bank or politicians."
Danish mortgage banks each year sell bonds equal to more than 40 percent of Denmark's $340 billion economy to refinance household and commercial mortgages after falling yields catapulted the one-year loans, introduced in 1996, to their top rank. Like U.S. securities, most Danish bonds are rated AAA. Denmark's mortgage bond market is the biggest in the world on a per capita basis.
Larsen's mortgage, like most Danish homebuyers', is a 30-year loan. Borrowers can choose to have rates adjusted as often as every six months. Banks act as intermediaries, selling securities to finance the loans and funneling interest and principal payments to bondholders while keeping the mortgages on their books. That way, lenders pass on the interest rate risk to borrowers and investors while keeping the credit risk.
New Law
The government opted last year to address concerns about the refinancing risks of the one-year bonds rather than simply eliminate them. This month, the Danish parliament is expected to pass a bill to reduce the risks to lenders should a bond auction fail.
The new law would require one-year bonds to include a provision that would automatically extend maturities by a year at a time if an auction fails or yields rise more than 5 percentage points between auctions. Bonds sold in February auctions were the last without the mandatory maturity-extension feature.
The bill would ensure "the Danish system could survive a Lehman 2," said Soeren Holm, chief financial officer for Denmark's Nykredit Realkredit A/S, Europe's largest issuer of mortgage-backed bonds.
Record Refinancing
The government, which in 2010 became the first in Europe to push through so-called bank bail-in laws, in which bondholders aren't rescued, says the proposal resolves the risks looming over the system. It forces investors and borrowers to bear the cost of the next credit-market freeze. While the industry survived the 2008 financial crisis, it may not be so fortunate a second time as refinancing amounts test records, according to Jesper Rangvid, chairman of the government committee appointed in 2012 to examine the financial crisis in Denmark.
"There is a high level of refinancing risk," Rangvid said. "At the moment, it's simply not clear what would happen if an auction failed. The only thing that is reasonably clear is that it would generate a lot of turmoil."
The government proposed the requirement after concluding banks weren't moving fast enough to shrink the use of one-year securities. The surprise announcement followed a warning from Standard and Poor's that the bonds' heavy use threatened lenders' credit ratings.
Rollover Risks
About a third of all Danish mortgage bonds are rolled over every year, so each new issue is needed to replace maturing debt. For the one-year notes, the vast majority are for rolling over debt. The danger is a result of so-called refinancing, or liquidity, risk. If investor demand is insufficient and an auction fails, the banks are on the hook for the maturing bonds.
Extending maturities addresses some, though not all, of the risks to mortgage banks from the one-year loans, known as F1 mortgages, according to S&P.
"The law, as we understand it, will not discourage the use of short-term F1 mortgage loans," Alexander Ekbom, an analyst at the credit rating company, said in a note. "Mortgage lenders' dependence on short-term liabilities will remain high, perpetuating the status quo."
The mandatory extension feature will cost borrowers 5 to 9 basis points, according to Anders Aalund, a Copenhagen-based chief analyst of fixed-income research at Nordea Bank AB. For investors, the additional return offsets the risk the option will be exercised and keep them coming to the market, he said.
"That'll increase their returns," Aalund said.
Low Rates
Interest rates fell to as low as 0.33 percent in last month's auctions, Nordea said Feb. 25. That compares with a yield of 0.348 percent on U.S. Treasuries maturing in Feb. 2015, data compiled by Bloomberg shows.
About half of Larsen's mortgage is refinanced yearly. He said he first used one-year bonds in 2000 when he and his wife, Nadia, were looking to borrow at the lowest rates. Since then, the bonds have been a boon for the family, he said. The one-year notes fund about half of Larsen's mortgage.
"We looked at various short-term loans because we wanted to take out some money," Larsen said. "A fixed-rate loan didn't make sense at the time because of our financial situation. It was the cheapest rate we could get at the time."
Of the 2.97 trillion kroner in mortgage bonds outstanding in November, 817 billion kroner were fixed-rate bonds funding adjustable-mortgages to households and businesses, according to central bank figures. Most had a maturity of one year, according to the Danish Mortgage Bankers' Federation.
"The law clears up what happens in extreme situations so that's positive, but we still have to be very focused on making sure that we don't get into that situation," said Christian Heinig, chief economist for Realkredit Danmark A/S, the mortgage arm of Denmark's largest lender Danske Bank A/S.
Higher fees and marketing campaigns have cut the use of one-year bonds. They constituted 27 percent of loans in the fourth quarter compared with 30 percent a year earlier, the Association of Danish Mortgage Banks said Jan. 23.
For Larsen, sticking with the one-years is a no-brainer.
"As long as it's the best loan for us, we'll continue to have them," he said.
Before it's here, it's on the Bloomberg Terminal.
LEARN MORE