China's Ag Minister Says He Eats Genetically Modified Food
by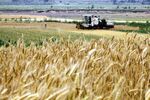 As China's leadership pushes more rapid urbanization to drive economic growth, the fate of the country's farmlands is once more becoming a top issue—and public concerns about genetically modified crops are part of the discussion.
Chinese Premier Li Keqiang, while delivering the work report (PDF) at the opening of the National People's Congress on Wednesday, signaled the importance of agriculture: "We must make doing a good job in our work relating to agriculture, rural areas, and farmers the No. 1 priority in all our endeavors," he said, "and accelerate agricultural modernization in order to ensure China's food security and increase farmers' incomes."
The use of genetically modified foods, controversial among China's increasingly safety-conscious consumers, got an official shout-out when the agricultural minister, Han Changfu, met the press today. Describing himself as a regular consumer of GMOs, mainly through soybean oil, he noted that use of genetically modified cotton has boosted China's yields by controlling pests and lowering the need for pesticides. That's good news for the industry as well as farmers' incomes, Han pointed out.
Officially, genetic modification is allowed only for China's cotton and papaya crops, but most of the country's soybean imports from the U.S., Brazil, and Argentina are modified. The agricultural technology is "a new concept to many people, so it's understandable that some are worried about it," Han said. "It needs time for people to get to know and accept it."
Another divisive rural issue, China's socially disruptive problem of forced land acquisitions, was also raised. With China's top leaders putting the official seal of approval on faster urbanization during last year's Third Plenum, many local governments have accelerated the pace of converting rural land to city use. "Rural land transfer should be bound by law, made voluntarily, and with compensation," Han said. "It must be made clear that the subject of rural land transfer is farmers, not cadres," he said, stressing that the rural residents' interests must be put first, reported the official Xinhua News Agency.
For the 11th year running, the first policy document China issued in 2014—the zhongyang yihao wenjian, or "No. 1 Central Document"—was about agriculture. And again it highlighted the country's need to ensure food security even as rapid urbanization and rampant pollution affect cropland. The goal: to not fall below the so-called red line of 120 million hectares of arable land. "We will improve the quality of cultivated land, increase overall agricultural production capacity, and guarantee our basic self-sufficiency of cereal grains and absolute grain security," said Premier Li on March 5. "In this way, we will have full control over the food supply of China's 1.3 billion people."
Before it's here, it's on the Bloomberg Terminal.
LEARN MORE