Can Outrage Over Student Loans Create a Political Bloc?
By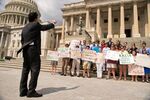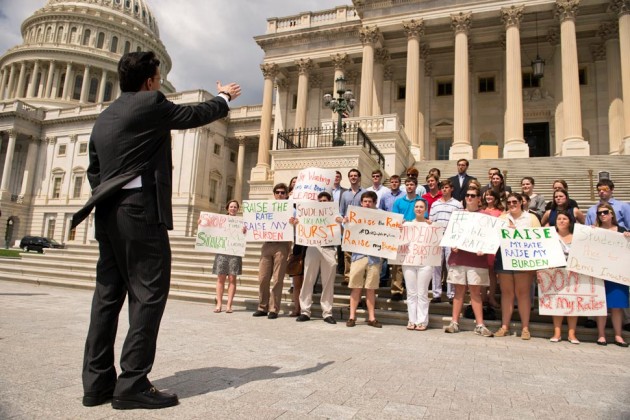 This morning Senator Elizabeth Warren (D-Mass.) is kicking off "Higher Ed Not Debt," a new coalition of progressive groups looking to turn the widespread frustration over student debt into a full-fledged political force. "The cost of higher education isn't like the weather, that just happened," says Tahir Duckett, whose title at the AFL-CIO is national young worker coordinator. "It is actually the result of policy decisions, and we can hold those policymakers accountable."
Duckett says the group came together after the fight over an increase in student loan interest rates last summer. In the past few months, various progressive organizations had begun talking about formalizing an effort, leading up to today's launch, which includes more than 20 organizations with a range of know-how, from policy and politics to ground operations and communications: Generation Progress, the Center for American Progress, Demos, Working Families, the Education Trust, Young Invincibles, Student Veterans of America, Student Debt Crisis, Scholarship America, AFT, SEIU, AFL-CIO, AFSCME, AAUW, Jobs With Justice, One Wisconsin Now, Alliance of Californians for Community Empowerment, the Ohio Student Association, NYPIRG, New York Students Rising, and Our Time.
As my colleague Josh Green has pointed out, student debt has the potential to be an effective rhetorical tool. Warren proposed a bill, for example, that would offer student loans at the same interest rate the Federal Reserve offers "Wall Street banks," even though, given her legal expertise, she no doubt knows that student loans are riskier than short-term bank debt. And she blasted out a press release saying the Government Accountability Office found that the government makes what she called "obscene" profits from federal student loans, even though the GAO report actually said there's no way to know if the government makes or loses money on the loans.
Translating those rhetorical flourishes into political power is the challenge for Higher Ed Not Debt. "From our perspective, … the debt issue is a subset of the broader affordability issue," Duckett says. And by that he means the rise of expensive for-profit colleges and the decades-long reduction in state funding for public higher education. Changing those are multipronged battles, fought by officials, elected or appointed, in D.C. over Pell Grant funding, in the budget committees of state legislatures, and in the tedious minutiae of rulemaking. "We recognize will be a long-term fight," says Duckett. "We expect to be fighting it in 2014, and we expect to be fighting it in 2016, too."
Before it's here, it's on the Bloomberg Terminal.
LEARN MORE