Brazil Signals Further Tightening on Persistent Inflation
Matthew Malinowski and Raymond Colitt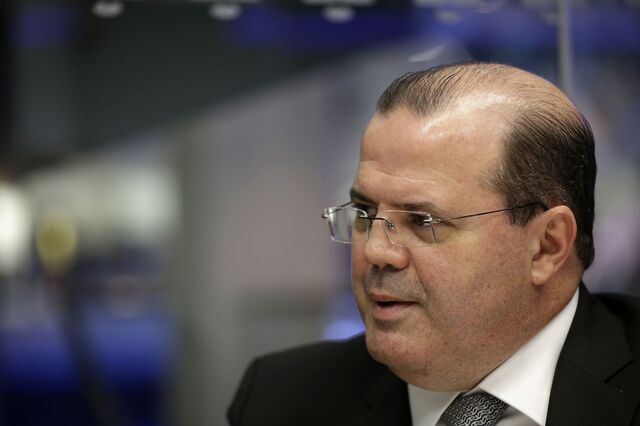 Brazil's central bank signaled today it will continue tightening monetary policy as above-target inflation remains persistent. Swap rates rose.
Policy makers led by bank President Alexandre Tombini voted unanimously on Feb. 26 to slow the pace of rate increases, raising the benchmark Selic rate to 10.75 percent from 10.5 percent after six straight half-point increases. The central bank's monetary policy will help offset inflationary pressure from a currency depreciation, officials said in the minutes of their Feb. 25-26 meeting published online today.
The central bank considers "appropriate the continuation of the adjustment of monetary conditions under way," according to the minutes. "Currency depreciation constitutes a source of inflationary pressure in the shorter term."
Economic authorities in the world's second-largest emerging market are working to sustain growth while further slowing consumer prices. Annual inflation has eased more than a percentage point since June, while the economy climbed more than forecast in the fourth quarter. Still, analysts see those advances as short-lived, as they forecast a slower economic expansion and inflation accelerating toward the upper limit of the central bank's target range this year.
Swap rates on the contract due in January 2017, the most traded in Sao Paulo today, rose 5 basis points, or 0.05 percentage point, to 12.33 percent at 9:10 a.m. local time. The real strengthened by 0.3 percent to 2.3119 per U.S. dollar and is down 14.8 percent in the past 12 months.
'Clear Message'
The central bank's emphasis on persistent and above-target inflation signals that it will increase the Selic rate by a further 25 basis points, Neil Shearing, chief emerging markets economist at Capital Economics Ltd, said by phone.
"The clear message here is that, in terms of the risks to growth or risks to inflation, that they are still coming down clearly on the side of risks to inflation," he said.
The central bank board in the minutes reiterated previous statements, saying monetary policy's impact on inflation is "cumulative" and appears with a delay.
Policy makers have raised borrowing costs by a total of 350 basis points at eight consecutive meetings since April, tightening monetary policy along with other countries such as Turkey and Russia to fight inflationary pressures.
Consumer Prices
Consumer prices rose 5.65 percent in the year through mid-February. While that's down from a 2013 high of 6.67 percent in mid-June, it's still above the 4.5 percent mid-point of the target range.
Latin America's largest economy expanded 0.7 percent in the fourth quarter from the prior three months, when it contracted, the national statistics agency said on Feb. 27. The median estimate of economists surveyed by Bloomberg was for 0.3 percent growth.
A higher key rate can help growth by slowing inflation, Finance Minister Guido Mantega told reporters in Brasilia on Feb. 27. The economy will increase slightly more this year than last, he said.
Brazil will cut 44 billion reais ($19 billion) from this year's budget, the Finance Ministry said in a Feb. 20 statement. The spending reduction will slow inflation and cut debt, while allowing monetary policy to be "less severe," Mantega told reporters in Brasilia the same day.
Economists in a weekly central bank survey are more skeptical. Analysts expect Brazil's growth to slow to 1.7 percent this year, while inflation accelerates to 6 percent by December, according to the study published on March 5.
Confidence levels have waned as officials have tightened monetary policy. Industrial sector sentiment in February fell to the lowest level since July, while consumer confidence plunged to the lowest since May 2009.
Gross domestic product gained 2.3 percent in 2013. That compares with 1 percent growth in 2012 and 2.7 percent in 2011.
Before it's here, it's on the Bloomberg Terminal.
LEARN MORE