The Winklevii Are Spending Their Bitcoin Fortune on Space Travel
by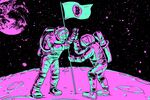 Just as the price of Bitcoin crashes to earth from its effervescent highs, two of the world's most famous cybercurrency investors, Tyler and Cameron Winklevoss, are hoping to escape the planet's pearly grip.
The Winklevii, as they are commonly known, used the website of their investment firm to announce that they have signed up to travel to suborbital space on Virgin Galactic, the space tourism company founded by Richard Branson. Tickets cost $250,000, according to Virgin Galactic, which plans to start flying next year. The brothers plan to pay for their trip in Bitcoin, it almost goes without saying.
The Winklevoss announcement, full of soaring language best read aloud in the voice of Morgan Freeman narrating a NOVA special, attempts to lay out the brothers' rationale for the journey. They are not going because it is meant to be a wild, memorable ride available only to the wealthy elite. Rather, the journey represents "the reduction of pain-points and friction in an effort to build a better world."
The post continues:
"Humans have a long tradition of exploring and forging new frontiers, both physically and metaphorically. In the Middle Ages, Marco Polo's writings—which recounted his 24 years of travel and trade on the Silk Road—built a new and lasting level of economic and cultural awareness between Europe and Asia. 200 years later, they would inspire 15th century explorer Christopher Columbus to search for a shorter route to the Far East by sea. While Columbus did not achieve his original goal, he did manage to bring word of a new landmass back to Europe, which planted the seeds of hope and possibility in the minds of persecuted Pilgrims, who fled to and settled North America 100 years later. Such stories of inadvertent and iterated accomplishment are all too familiar in the spheres of exploration and innovation. They demonstrate how the building blocks of human discovery are not necessarily brilliance and perfection, but rather, the courage to fail and persistence to keep on trying."
The post, written by Tyler Winklevoss, says the brothers are considering their tickets as support of "a new technology that may forever change the way we travel, purchased with a new technology that may forever change the way we transact."
The brothers came into fame and fortune by suing Harvard classmate Mark Zuckerberg over the origin of Facebook. They were early proponents of Bitcoin, the stateless digital currency that has recently been rocked by the collapse of the prominent exchange Mt. Gox.
Before it's here, it's on the Bloomberg Terminal.
LEARN MORE