UNC Fake Classes Scandal: Key Administrator Agrees to Tell All
Paul M. Barrett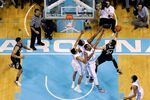 If University of North Carolina, Chapel Hill's fake classes fiasco were a mob case, we'd say a key witness has turned state's evidence. Since it's a National Collegiate Athletic Association academic-fraud scandal, let's go with: Another sneaker has dropped—about a size 16, triple-E.
Recall from our current cover story, "No Class," that UNC-Chapel Hill, home of the legendary Tar Heels basketball team, has become ground zero in the debate about how the $16 billion college sports industry operates. Carolina earned that dubious distinction by, among other misdeeds, offering more than 200 fake classes that never met but were disproportionately preferred by its varsity athletes.
For three years, university administrators tried to limit the damage by insisting that this bizarre campaign to maintain athletes' eligibility somehow had nothing to do with the school's athletic department. That implausible denial of the link between big-time sports and academic corruption has started to crumble, and UNC recently agreed to hire an outside counsel to investigate the whole sad episode afresh. Yesterday, the outside lawyer landed a crucial cooperating witness.
Deborah Crowder, a former long-time administrator in Carolina's black-studies department, announced via her lawyer that she would submit to thorough questioning by the independent counsel, Kenneth Wainstein, a former federal prosecutor and senior U.S. Justice Department official. Wainstein, Crowder's attorney, Brian Vick, and local prosecutor, Jim Woodall each issued statements confirming that Woodall had agreed not to seek criminal charges against the retired UNC administrator. Crowder, in turn, vowed to tell all to Wainstein.
Why is this important? Earlier university reviews and reports by investigative journalist Dan Kane of the Raleigh News & Observer have tied Crowder to the creation of fake black-studies classes and noted that she has extensive personal ties to UNC athletics. Previously, Crowder, who retired in 2009, had refused to speak about the scandal—at least in public. To avoid criminal prosecution, she is now likely to name the person or people who encouraged her to set up the phony no-show classes.
Crowder's revelations will put huge pressure on her ex-boss, Julius Nyang'oro, the former black-studies chairman who served as the nominal professor for the suspect courses. Nyang'oro was criminally indicted in December for defrauding the university. Via his lawyer, he has denied wrongdoing and signaled that he does not intend to take the fall.
For a long time, senior UNC officials have tried to isolate Nyang'oro as a rogue academic who for unexplained reasons turned his department into a bad joke. (The department has since been renamed and overhauled, by the way.) Crowder's belated eagerness to go on the record, combined with the likelihood that Nyang'oro will divulge some dirty laundry as part of a deal with Woodall, could finally allow observers to understand what's really been going on in Chapel Hill. Expect more footwear to fall in the near future.
Before it's here, it's on the Bloomberg Terminal.
LEARN MORE