Smith & Wesson Shoppers Keep Reloading on Hand Guns
by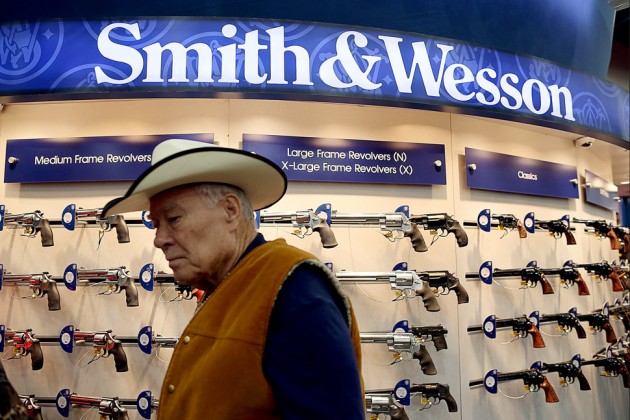 The U.S. gun market might be hotter than many thought. Despite a decline in federal background checks needed to buy firearms, Smith & Wesson just shot the lights out in a quarterly earnings report.
In the three months ended Jan. 31, the manufacturer, based in Springfield, Mass., said sales increased 7.1 percent, to $146 million. Profit surged 43 percent, to $20.8 million, as the company dangled fewer promotions and raised prices on some of its most popular firearms. "We continue to believe that our industry is in the midst of an underlying long-term growth trend, and our objective is to grow faster than the market," Chief Executive James Debney said on a conference call with analysts.
The industry is certainly doing well, but growth isn't entirely reflected in the number of people asking the FBI for approval to buy a gun.

The U.S. gun market is still robust, with consumers bearing arms at historic levels. But Wall Street doesn't focus on historic levels as much as what happened a year ago. And in the recent quarter, background checks dropped 24 percent from the year-earlier period

The widely accepted theory is that interest from potential shooters has cooled as the likelihood of stiffer gun-control laws wanes. Sturm Ruger, a slightly larger rival, watched its stock buckle last week when it reported a drop in quarterly sales. A few days before that, Cabela's blamed a 10 percent slump in revenue at long-standing stores on sluggish firearm sales.
So how did Smith & Wesson buck the trend? It wasn't with duck hunters. In the recent quarter, its sales from so-called long guns—traditional shotguns and rifles—dropped 9 percent. Handgun sales, which account for most of the company's business, jumped 30 percent.
Some of the hottest product have been Smith & Wesson's M&P Shield pistols, marketed as concealable, lightweight models "with proven stopping power." They come in .40 caliber and 9mm versions and cost $450 apiece.
The company is also selling a lot of snub-nosed revolvers, which cost between $870 and $1,130. Debney theorized that the spinning cylinder models are becoming popular with customers who are looking for a second handgun.
So the types of products most targeted by the gun-control lobby are still the ones driving returns at Smith & Wesson, even as manufacturers such as Ruger, which aim more for hunters and long-gun shooters, struggle.
And as for background checks, gun shoppers need only one approval per purchase—and law-enforcement agencies, some of Smith & Wesson's best customers, don't have to bother with background checks at all. It's possible that Smith & Wesson fans are simply buying in bulk.
Before it's here, it's on the Bloomberg Terminal.
LEARN MORE