Reform and Growth: China Wants Both, Says Li Keqiang
By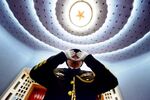 China's leaders seem to want it both ways: Keep growth high while pushing economic reforms. That's the message delivered this morning by Premier Li Keqiang.
This year's gross domestic product target is "about 7.5 percent," unchanged from last year, said Li, while delivering the work report (PDF)—China's State of the Union—at the opening of the National People's Congress on Wednesday.
"In 2014, we are still in a complex environment with both favorable and unfavorable factors. The world economic recovery still faces instability and uncertainties," warned Li. "We are at a critical juncture where our path upward is particularly steep."
That still-high level of growth is necessary to ensure adequate employment—or the creation of 10 million additional urban jobs, the target set for this year. (Last year the target was over 9 million). "Stable growth ensures employment. We need both to meet the need to create new urban jobs and provide opportunities for rural migrant workers who come to cities for work," said Li. "Ultimately, stable growth will ensure that urban and rural incomes increase and people's lives improve."
Although no target was set for lifting incomes in 2014, Li noted the progress made last year—with urban incomes up 7 percent and rural incomes up 9.3 percent. This year incomes will increase "in step with economic development so that everyone benefits," promised the premier.
The overall rise in prices for the year must be kept at around 3.5 percent, the same target as last year. That should be relatively easy to achieve (last year's consumer price index rose 2.7 percent), with agricultural output rising in recent years and an existing oversupply of many manufactured products, explained Li. Still, "we must not lower our guard. We must keep prices under control to ensure that price increases do not exert a major negative impact on people's lives," he said.
Despite aiming for more rapid growth—which many see as incompatible with reform and deleveraging, at least in the short term—Li promised not to back away from plans to further open the economy to competition. "China's reform has entered a critical stage and a deep water zone. We must rely fully on the people, break mental shackles and vested interests with great determination, and pursue economic structural reform," said Li. "We need to ensure that the market plays the decisive role in allocating resources," he said.
Before it's here, it's on the Bloomberg Terminal.
LEARN MORE