Life-Saving Medicine, High Costs, and the Intractable Patent Puzzle
By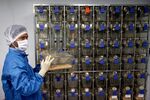 In the middle of February, just as another winter snowstorm was about to hit the East Coast, Nina Mahmud flew from her home in Florida to Washington, D.C., to try a Michael Moore-style stunt to save her father-in-law's life.
A representative of Bayer was set to speak at a hearing of the U.S. International Trade Commission. Mahmud was going to ask her how the pharmaceutical giant could let her father-in-law, a shopkeeper in Egypt suffering from liver cancer, bankrupt himself to pay for a life-saving treatment. The drug, Nexavar, costs him about $115 a day in Egypt, she said, while his monthly salary is less than $300.
It's a situation that underscores the sobering global economies that govern who has access to medicine. The hearing in Washington featured a German pharmaceutical company testifying to U.S. officials about the dangers of India's trade policies—with Mahmud, a 35-year-old mother of two, there at the margins to advocate for her Egyptian relative. India had set events in motion by deciding Nexavar was too expensive and allowing for production of a generic version, and Bayer wanted help from the U.S. to punish India.
The problem of affordable medicine goes far beyond India and Egypt, reaching into even the wealthiest economies. The monthly costs of many cancer drugs now exceed $10,000 and a few are more than triple that amount. Recently the price of a breakthrough drug for hepatitis C—$84,000 for a 12-week treatment—touched off a backlash against its manufacturer, Gilead Sciences.
Patents on such drugs give the manufacturers a monopoly—in the U.S. it lasts 20 years from the date of filing—so the costs of research and development can be recouped and revenues can be invested in new innovations (along with profit for shareholders). The U.S. has pushed to broaden patents and other intellectual-property protections around the globe through trade agreements.
But critics such as Mahmud contend that the system puts profit ahead of patients, creating a situation in which people with money or good health insurance get medicine, and the rest of the world goes without. India has become the epicenter of the current debate, infuriating drug companies by refusing to extend some patents and, in the case of Nexavar, allowing generic versions to be manufactured while patents are still valid.
Bayer's chief executive, Marijn Dekkers, accused India of theft by allowing the generic version during a public appearance in December. "We did not develop this product for the Indian market, let's be honest," he said of Nexavar. "We developed this product for Western patients who can afford this product, quite honestly. It is an expensive product, being an oncology product. But you know the risk in these situations is always spillover. If this generic Indian company is now going to sell this product, then South Africa, and then New Zealand, you never know, you know, how this is going to spill over." (Dekkers has since stated that his remarks were spoken out of frustration at the Indian government and "could not be more opposite to what I want and we do at Bayer.")
Even so, his remarks continue to rankle Mahmud. "It reminds me of a quote a professor once asked me," Mahmud says. "If you saw someone drowning, is it illegal to stand there and watch them? The answer is no. But it's immoral. It's disgusting."
Mahmud said she and her husband, both Egyptian by birth, have watched helplessly as her husband's father, Fathi Aboseada, has drained his life savings on Nexavar treatments, which have significantly shrunk his tumors and brought his blood levels to within normal ranges.
She was doing research online when she came across James Love, director of Knowledge Ecology International, a frequent critic of American drug patent laws who was testifying at the International Trade Commission hearing. Love invited her to attend, at his organization's expense, setting up the confrontation with Bayer in an effort to generate publicity about the costs of high drug prices.
During a break in the proceedings, Mahmud said she introduced herself to Julie Corcoran, director of public policy for Bayer, who promised to look into the situation.
Christopher Loder, a Bayer spokesman, said that because of the changing political climate in Egypt, Bayer's efforts to work with the government to create a patient-access program for Nexavar hadn't been completed. "We have great sympathy for what Ms. Mahmud and her family are experiencing," he said in a statement. "We are optimistic that the necessary measures to provide all patients with medications they require will be implemented soon."
Mahmud said she is now trying to figure out if it is possible, and even legal, to ship generic Nexavar from India to Egypt. The cost of the generic drug in India is about $108 per month. The International Trade Commission, meanwhile, is preparing a report on how India's policies affect the U.S. economy, which is scheduled to be delivered to Congress in November.
Before it's here, it's on the Bloomberg Terminal.
LEARN MORE