Lew Says U.S. Looking at Range of Options Against Russia
Ian Katz and Kasia Klimasinska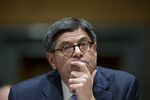 U.S. Treasury Secretary Jacob J. Lew said the Obama administration is considering a "wide range" of options including sanctions to penalize Russia and restore stability in Ukraine.
"There need to be steps that hold Russia accountable," Lew told the Senate Finance Committee today. "We're looking into a wide range of options, including sanctions and ways to increase Russia's political and economic isolation. Our ultimate goal is to de-escalate the situation in Ukraine."
Russia today defied pleas from the West to loosen its grip on Ukraine's southern Crimea region, as the European Union promised 1.6 billion euros ($2.2 billion) in emergency aid to help the Ukrainian government avert a default.
Lew told lawmakers "the steps Russia has taken to violate Ukraine's sovereignty, Ukraine's territorial integrity, are a breach of international law."
Russian Foreign Minister Sergei Lavrov said the government in Kiev no longer rules over Crimea and that control has shifted to armed "self-defense" groups. U.S. Secretary of State John Kerry warned Russia against violating "very clear legal obligations" to uphold Ukraine's unity.
Lew, at a hearing scheduled to discuss the Obama administration's 2015 budget proposal, said he had spoken with Ukrainian Prime Minister Arseniy Yatsenyuk "a number of times, and he's told me that his government is ready to adopt vital economic reforms."
IMF Resources
Lew reiterated that the administration had stopped preparations for a Group of Eight summit planned for June in Sochi, Russia.
"I think it's clear that Russia cannot sit in Sochi at G-8 meetings while it's pursuing the policies that it's now pursuing," Lew said. Russia is a member of the G-8 and Group of 20, though not the Group of Seven.
Lew also urged Congress to approve legislation increasing International Monetary Fund resources.
The administration is seeking to include legislation boosting IMF resources in an aid package the U.S. is preparing for Ukraine, a Treasury Department official said yesterday.
The Treasury Department is pushing for the measure to support the IMF at a time when G-7 officials want the lender to take a leading role in helping bolster the fledgling Ukrainian government, according to the official, who asked not to be named because discussions are private.
The measure would make good on a 2010 international agreement to boost the U.S.'s share, or quota, at the fund and raise the amount of money Ukraine can borrow from the global lender.
The administration now needs to gain support from House Republicans, who in January refused to include the IMF measure in a spending bill. House Majority Leader Eric Cantor has already indicated unwillingness to support a Ukrainian aid measure that included IMF quota changes.
Before it's here, it's on the Bloomberg Terminal.
LEARN MORE