HCL's Twitter Recruitment Yields 88,000 Applicants and Five Curious Finalists
By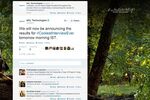 When HCL Technologies took to Twitter on Feb. 10 to hire a marketing consultant under the hashtag #CoolestInterviewEver, it seemed a publicity stunt. The "job" is a one-year consulting stint in one of five roles (one of them is "hacker-in-chief") and up to $75,000 in cash. After three weeks, the stunt has clearly worked—at least as a marketing strategy.
Krishnan Chatterjee, who runs global marketing for the India-based IT company, says more than 88,000 people responded to its campaign on Twitter, and a comparable number reached out via other social media sites. HCL boosted its follower count by more than 25 percent, to about 202,000, ahead of such rivals as Wipro and Infosys. "For five days, we trended ahead of the two prime ministerial candidates," says Chatterjee, adding the "cost of this whole campaign is less than it takes to recruit one person."
Chatterjee now wants to hold face-to-face interviews with the campaign's five finalists, whose names are being released today. It's easy to see why. Although they demonstrated an ability to communicate clearly and market themselves in 140 or fewer characters, some have little more than a few tweets to their name prior to an HCL interview. Sweta Bhatt (@SwetaBhattMini) posted her first-ever tweet on Feb. 15 and has only six followers. No wonder Chatterjee wants to go offline before making a final choice. As he says: "If you run the entire process through Twitter, can you really trust that the person is a real person?"
He'll soon find out. Here are the accounts of the other four finalists:
• Anandan Pillai (@anandan22) — With 1,283 followers and more than 21,000 tweets, the self-described researcher and social media enthusiast lives or works in Gurgaon, an industrial hub near New Delhi. He also has his own website on which, among other things, he praises HCL's campaign as a time-saver and urges readers to participate.
• Prashant Singh (@iAmGolfy) — Singh describes himself as a "Technology Geek, Entrepreneur, Blogger, and Golfer" who "Thinks Big, Aims for the Stars [and] Walks Hand in Hand with the Latest Technology." With 3,548 followers, he has the largest reach of any finalist, and he produced this cool video to describe his 2013 Twitter presence.
• Jennifer Jayne (@jennifermjayne) — Jayne is an enigma who made the HCL cut with 47 followers, 181 tweets and no bio. Her Instagram account lists no photos or followers, and several tweets consist of Pinterest plugs for dubious oils (and one with a particularly catchy slogan for frankincense) that allegedly "earn you extra cash" and lead nowhere.
• Rohina Dobhal (@rohinadobhal) — With 79 followers and 341 tweets, her Twitter profile describes her only as "A die hard Optimist, Adaptable & Lovable Personality." Many consist of her terrific string of answers to the #CoolestInterviewEver questions after tweeting that she wants to be a "womenspiration evangelist." Prior tweets are largely cryptic status updates.
Who knows whether the finalists are all real? This is Twitter, after all. Unlike the Pope or Katy Perry, most of the people tweeting don't have their identities verified. That makes HCL's recruitment campaign an interesting exercise in the potential and limits of social media. Anand Pillai, chief learning officer at India's Reliance Industries, says the payoff is well worth the risk. "This is a way to reach people who aren't even looking for a job," says Pillai (@Anand_Pillai) who retweeted some campaign messages to his 3,712 followers. "You'd be a fool not to see there's a marketing component to this, but it's also a brilliant manpower collection tool."
Maybe the tech company will find the perfect marketing consultant among its final five. Maybe that was never really the campaign's goal. With plenty of buzz and a bigger follower base, HCL can always treat its Twitter recruitment drive as a lesson in #TGTBT—too good to be true.
Before it's here, it's on the Bloomberg Terminal.
LEARN MORE