Educators: Teach Millennials How to Be a Force for Good
Alison Davis-Blake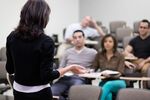 The life experiences of twenty- and thirty-somethings have changed, and so have their attitudes toward business and business education.
The next generation of business leaders has witnessed a string of corporate bad actors sentenced to prison. During the recession, they saw their parents' pensions dissipate. They watched family members lose jobs, homes, and more.
These life-changing moments have created a generation with different expectations of how career success is both defined and achieved. Leaders in business education must be prepared to give students the tools–academic and emotional–to redefine the workplace as a setting that creates both profit and meaning. At the Ross School of Business, where I am dean, we call this Positive Business, a focus on creating businesses that generate rewards for shareholders, employees, and society.
Whatever the phrase, educators must make this more than a slogan; we must hold up the best examples of socially minded leadership for our students. Whole Foods Market, for example, makes decisions only after considering the needs of all stakeholders–employees, suppliers, customers, shareholders, and local communities–yet still manages to make the most profit per square foot in the retail industry. Unilever plans to double the size of its business by achieving seven socially focused goals by 2020. These stories resonate with our students.
It is essential that we demonstrate to the next generation that there is a path that can lead to both profitability and social responsibility. The average annualized return for companies on the S&P 500 was 6.04 percent from 1997 to 2013. But during the same period, companies on Fortune magazine's list of 100 Best Companies to Work For saw a return of 11.8 percent. Our own research at Ross's Center for Positive Organizations shows that organizations with progressive policies have a truly engaged workforce with 16 percent better individual job performance and considerably less burnout than employees who merely show up each day.
As we teach our students in the classroom, that's the business case for why social responsibility should be an important piece of the business school curriculum. But there's more beyond those numbers: Students must learn to excel both as leaders and collaborators to create an environment that maximizes group and individual effectiveness.
One of the greatest assets that students gain from their experience in business school is the opportunity to try new things and the freedom to fail. Business school can and should serve as a safety net to develop and test concepts and ideas to help students understand how to be lifelong learners and innovators–those skills will be essential for future success. Learning opportunities that use real world experience, such as being a part of a social venture fund or developing "base of the pyramid" business concepts for India's poor, are woven through our MBA program.
It's an incredibly exciting time to be in business education. I am proud of our mission to develop leaders who make a positive difference in the world. We can solve our most complex challenges by empowering those who believe that business can, and should, be a force for good.