You Call it Scaling. Is it Really Just Swarming?
Robert I. Sutton and Huggy Rao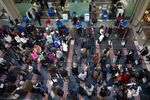 Some leaders love the pomp and circumstance of exciting kick-off events. But they lack the grit and attention to detail required to create excellence that endures. One executive we interviewed for our research sighed as she described working for a chief executive officer who loved being the star of the show when her firm inaugurated new initiatives, launched new products, and announced mergers: "She loves planning and hosting the party but has little interest in cleaning up the mess." Her boss loved the thrill of managers swarming together to discuss bold ideas and big plans but was allergic to the daily grind required to effectively scale the business. Although creating enthusiasm and spreading awareness about new initiatives are important first steps in mobilizing an organization, they aren't enough. People have to do the required work to implement them or they won't stick.