You Call it Scaling. Is it Really Just Swarming?
Robert I. Sutton and Huggy Rao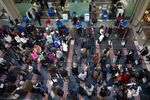 Some leaders love the pomp and circumstance of exciting kick-off events. But they lack the grit and attention to detail required to create excellence that endures. One executive we interviewed for our research sighed as she described working for a chief executive officer who loved being the star of the show when her firm inaugurated new initiatives, launched new products, and announced mergers: "She loves planning and hosting the party but has little interest in cleaning up the mess." Her boss loved the thrill of managers swarming together to discuss bold ideas and big plans but was allergic to the daily grind required to effectively scale the business. Although creating enthusiasm and spreading awareness about new initiatives are important first steps in mobilizing an organization, they aren't enough. People have to do the required work to implement them or they won't stick.
Training is central to many successful efforts that we highlight in Scaling Up Excellence. At Wyeth Pharmaceuticals, new manufacturing processes cut costs by 25 percent and increased quality. Members of "mini-transformation" teams in each plant were taught skills such as how to have difficult conversations with colleagues, provide coaching and feedback, practice lean manufacturing, and run a team huddle. Although training helped set the stage for change, it wasn't seen as sufficient. The teams were coached by managers and consultants as they made changes in their manufacturing practices. Then they helped transfer what they had learned to other Wyeth teams.
Unfortunately, training sometimes creates little more than a brief swarm of activity. Much like corporate kick-offs whose follow-up is lame or nonexistent, training has little effect when no steps are taken to help people implement and live what they've learned. A few years back, the Transportation Security Administration developed a set of metaphors to help employees understand the security value of creating a calm and courteous screening experience with officers who are alert to passengers' moods and actions. One metaphor was that a shark is easier to spot in calm, rather than rough, seas. (That is, a nervous terrorist is easier to notice when the screening setting is relaxed and quiet than when it's tense and loud.) TSA rolled out new materials during two-day sessions for 1,100 employees, who then fanned out to train some 54,000 TSA officers during four-hour sessions at more than 450 airports.
As frequent flyers, we've seen little evidence that this effort had much impact on how most TSA officers think and act as they screen passengers. Stephanie Rowe, the former TSA executive who led this effort, admits that teaching 54,000 people new ways to do their jobs was only a start. Although this was a potentially valuable first step, changes in senior leadership and TSA budget priorities meant that few follow-up efforts were made to support TSA officers or to ensure that their actions on the job reflected what they were taught. In short, this training triggered enthusiastic swarming for a few months, with little evidence of enduring change.
If your goal is to spread excellence as an organization or program expands, start by asking yourself these questions:
1. After the excitement of the initial kick-off meeting, conference, or training fades, how much time and effort will be put into the next steps? Do you have the resources, time, and willpower to see it through, given the inevitable speed bumps and setbacks?
2. Are your expectations about what it takes to implement the change realistic? We've found that leaders and senior teams who love swarms and shy away from the real work of scaling are prone to dangerous overconfidence. They underestimate how difficult it is to roll out new IT systems, to spread innovation practices across an organization, to double the headcount in the coming year, or to integrate two company cultures after a big merger.
3. Would you be better off testing the concept, your commitment to making it work, and your people's appetite for the change? Be especially wary when your best people have learned to react to each swarm by whispering to colleagues: "This, too, shall pass."
Better yet, ask the people in your life who know you best—your partner, mentors, or trusted friends—to give their unvarnished assessment of where you stand on these questions.
This piece is adapted from Robert Sutton and Huggy Rao's new book Scaling Up Excellence: Getting to More Without Settling for Less.
Before it's here, it's on the Bloomberg Terminal.
LEARN MORE